TV Host Melissa Bachman Causes Worldwide Outrage After Posting Pic Of Lion She'd Killed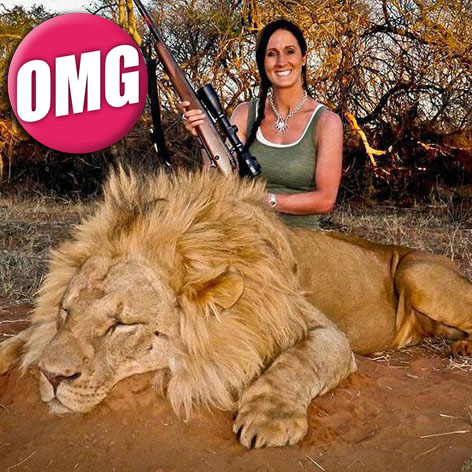 WARNING: Photos Of Animals Killed By Bachman May Be Disturbing To Some
Melissa Bachman has caused outrage around the world after posting photos of herself, holding her rifle and smiling over the body of a majestic male lion.
"Incredible day in South Africa," the host of TV's Winchester Deadly Pursuit wrote along with the shocking image. "Stalked inside 60-yards on this beautiful male lion.
"What a hunt," the self-desribed hard-core huntress said.
Article continues below advertisement
"What a HUNT - spot the typo," tweeted a disgusted Ricky Gervais.
Bachman, whose show airs on cable's Pursuit Channel, had previously posted images of herself proudly standing over the dead bodies of other wild animals, including, a huge black bear, zebra, antelope and several alligators.
The carcasses are all posed so that their faces are fully visible but not an ounce of blood is seen.
Bachman, a Minnesota native, grew up hunting, but that hadn't stopped many from criticizing her passion for hunting as sport.
She was dropped as a contestant on the National Geographic show, Ultimate Survival Alaska, last year after 13,000 people signed a petition protesting against the inclusion of a "heartless trophy hunter."
A petition has now been started on Change.org asking the government of the Republic of South Africa from allowing Bachman future entry into the country.
The petition was started by a Cape Town resident who wrote, "She is an absolute contradiction to the culture of conservation this country prides itself on."