Crocodile Dundee? Scott Disick Goes Alligator Hunting On Kourtney & Kim Take Miami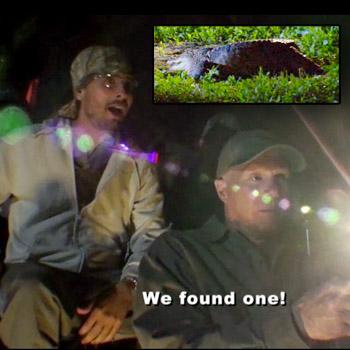 Has Scott Disick finally met his match?
Kourtney Kardashian's baby daddy looks at times animated and scared when he comes face to face with an alligator in the upcoming episode of Kourtney & Kim Take Miami.
And when the deadly reptile turns and hisses at him, the 29-year-old reality TV star jumps out of his skin.
On Sunday night E! viewers will see the father-of-two trawling the swamps of Florida on the hunt for the wild creatures.
Article continues below advertisement
Wearing army combats and sitting on the back of an airboat, Scott joins alligator farm owner Wayne Brooks as they go searching for the reptiles in the middle of the night.
As they approach one alligator Scott squeals with excitement like a little boy, saying: "Is that an alligator right there…? Oh my God. There's one!"
Later, talking to the camera, he says: "When the boat starts getting closer and closer to this alligator my adrenalin is definitely pumping.
"Wayne is a professional alligator hunter but I gotta tell you it's pretty nerve-wracking."
Not as nerve-wracking as when the two men jump out of the boat to approach the toothy predator. As Scott carries a pistol, Wayne shouts: "Come on we can get on this one… You got the gun ready?"
When the alligator turns its head to look at him, Scott can be heard saying: "You want it in the back of the head?"
The full episode airs on E! on Sunday at 9/8c.