'RHOC' Star Vicki Gunvalson Says Ex Husband Donn Wasn't Faithful, Boasts She Has 'A Lot Of Men' In Her Life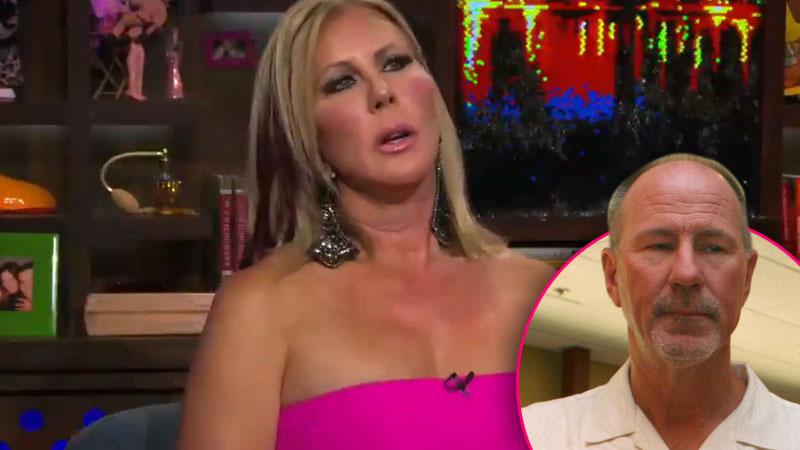 Vicki Gunvalson remains the longest-tenured housewife in the Bravo history, and the "O.G. from the O.C." showed one reason for her longevity, as she held nothing back on Watch What Happens Live Monday, opening up about her failed marriage, her current dating life and which all-time castmate she think has the lowest I.Q.
Listen! 'RHOP' star Wendy Osefo breaks down the "most intense fight in the show's history" in under 2 minutes.
Article continues below advertisement
During one part of the Q&A, the Real Housewives of Orange County's original cast member, 52, was asked if she attributed the end of her marriage to husband Donn to the trials and tribulations of reality TV.
Said Andy Cohen: "It had to play a part, and I have to think that if you hadn't done the show, you would still be with Donn."
Vicki confirmed Andy's suspicion, saying that she and Donn "would still be married" if she wasn't on the show, but it wasn't the program itself that triggered their divorce.
"I truly have to say that, I don't blame the show — I blame how busy I got, how disinterested I got with Donn because I was going, going, going, going," she said, adding that she doesn't think that she and her ex-husband "were ever really happy.
"Donn's much happier now being single, he loves his life," she said, before throwing her ex under the bus with a pointed jab at his faithfulness.
"He's not dating anybody right now – interesting, because he was dating when we were married," the Coto de Caza, Calif. native said. "It's kind of interesting: Oh, did I just say that? Yeah, I just said that."
Article continues below advertisement
Watch the video on RadarOnline.com:
As for her current flame, Brooks Ayers, Vicki came out with the revelation that — like her daughter Briana — his daughter is not a big fan of their relationship.
"His daughter probably has some issues with me," she said. "Girls just have a harder time doing these blended relationships in families.
"We're respectful of the kids, you know, and we just do what we can."
Watch the video on RadarOnline.com:
Brooks isn't the only game in Vicki's town, apparently, as she told Andy she currently has "a lot of men in her life.
"I love men!"
And in another instance of classic Vicki, the blonde beauty didn't miss an opportunity to take a jab at her longtime rival, former castmate Gretchen Rossi, when Andy introduced a bit called "Dumb and Dumber," baiting her into taking digs at her castmates.
"Gretchen wins!" she said. "Dumber, dumber! Ding, ding! Dumber, dumber!
The Real Housewives of Orange County airs on Bravo Monday at 9/8c.