Anderson Cooper, Kelly Ripa & Andy Cohen Give Their Take On If Giudice Family Is Milking TV For Sympathy In Legal Battle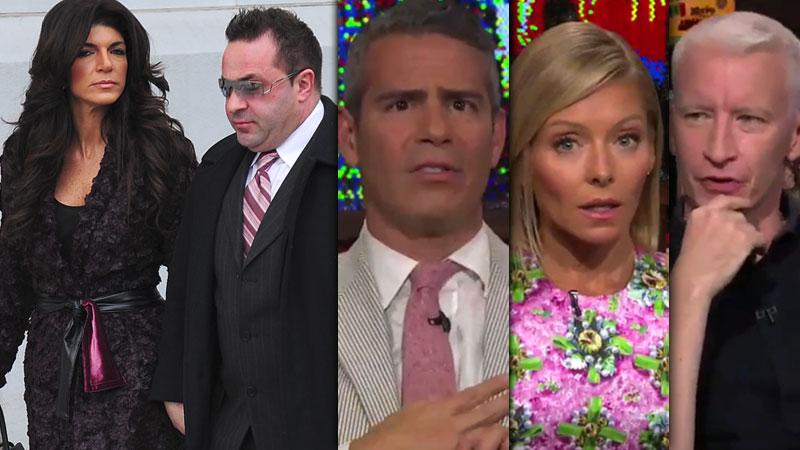 Article continues below advertisement
Ripa, a fellow Jersey girl, took the diplomatic approach in expressing her sympathy for the couple's four daughters.
"When I look at her little girl, of course, you cannot help but have your heart ripped out of your chest," the Live! host said. "Having said that, I think we have a legal process for a reason.
"I don't think that judges are persuaded by what's happening on television . . . I don't think there's a judge sitting over this trial that's going to say, 'Oh last night on the Real Housewives of New Jersey' . . . I really don't think that will impact it."
Ripa clarified, "I just look at the kids, and I feel for the kids, because I have kids — so that's my answer."
Cohen defended airing the Giudice's legal woes as a continuation of the journey viewers have been taking with the family for more than five years, since the show's 2009 premiere.
"We're now still following them and we're seeing what life is like after you plead guilty . . . it's a continuation of seeing what's going on in the lives of these people."
MORE ON:
Watch What Happens Live
Article continues below advertisement
The pragmatic Cooper pushed the idea that Giudice broadcasting her woes on the boob tube might not necessarily curry favor with viewers, or any decision-makers keeping abreast of the show.
"It's sort of in the eye of the beholder," the CNN centerpiece said. "It's up to viewers to interpret how they see things. Two people can see a scene and see it in completely different ways."
Watch the video on RadarOnline.com:
As we previously reported, both Joe (47 months) and Teresa (27 months) face extended time in custody when they're sentenced Sept. 23.
Watch What Happens Live airs Sunday thru Thursday at 11/10 on Bravo.