Shannon Breaks Down – 'I'm Not Crazy'…Tamra's A Liar! Beador Slams Judge In Blog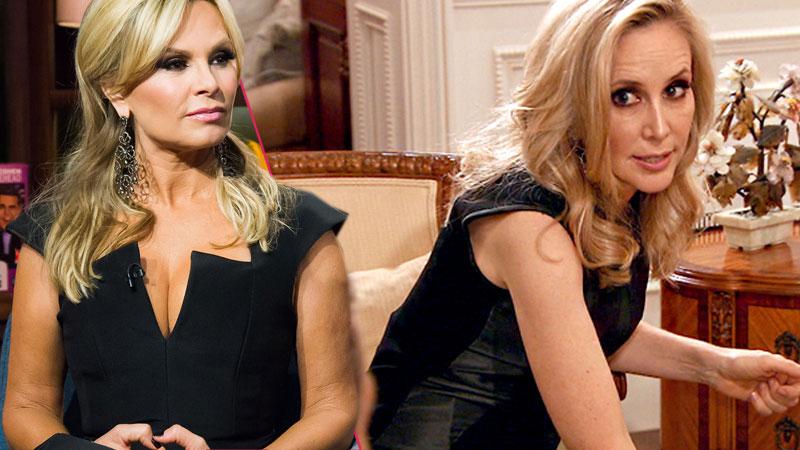 The Real Housewives of Orange County may have exploded Monday night, but come Tuesday the fury was still there. The housewives took to their respective blogs to dish about what had happened at the now-infamous dinner party, but Shannon Beador had the most to say.
Beador writes that she had fully expected Tamra Judge to tell the truth about statements Terry Dubrow allegedly had made regarding taking "the Beadors down." But that's not what happened. Instead Beador claims that Judge lied instead of coming forward with the truth.
Article continues below advertisement
"When you don't tell the truth, I guess it is difficult to keep your stories straight," Beador writes.
The course of events took a toll on Beador as she is seen flipping out later in the episode. But she wants to set the record straight because once again she claims Judge inaccurately relayed the events that occurred on the balcony.
"Tamra came outside with me said that she was 'sorry' and that she 'supported me 100 percent' -- and then she went inside to tell Heather that she 'tried to restrain me' and that I wasn't in a sound state of mind," Beador writes. "That was an inaccurate account once again."
The dramatic portrayal of Beador's reaction caused the reality star to formerly address the accusations that she is not in a sound state of mind.
"I have never heard a rumor around town that I was crazy and bottom line-- I am not crazy. I do not need professional help. The ridiculous accusations have to stop," she writes.
Beador does have at least one fellow cast mate in her corner, though – Lizzie Rovsek. The dinner party hostess writes in her blog that she believes that Beador didn't make up the "take the Beadors down comment." But she also doesn't know why someone would say that – if it were ever actually said.
Article continues below advertisement
"I truly believe Tamra told Shannon that. I have never known Shannon to lie," Rovsek writes. "Do I think Terry made this comment? No, I honestly don't think he said it. But here's my thing, if he did or didn't why would your very close friend say that to someone else?"
No matter the reason, it still managed to cause quite a bit of drama, not only between Beador and Judge, but also between Beador and her usual nemesis, Heather Dubrow. Last we saw Heather had "kicked" Beador out of her home.
"I might have a big mouth, but I know when I am wrong and I have no problem saying I am sorry," Judge writes.
It doesn't look like she felt she was wrong on the balcony, though.