Exclusive
Sonja Fights Back! 'RHONY' Star Morgan Says Co-Stars Exaggerated Her Financial Trouble: 'I'm Not Broke!'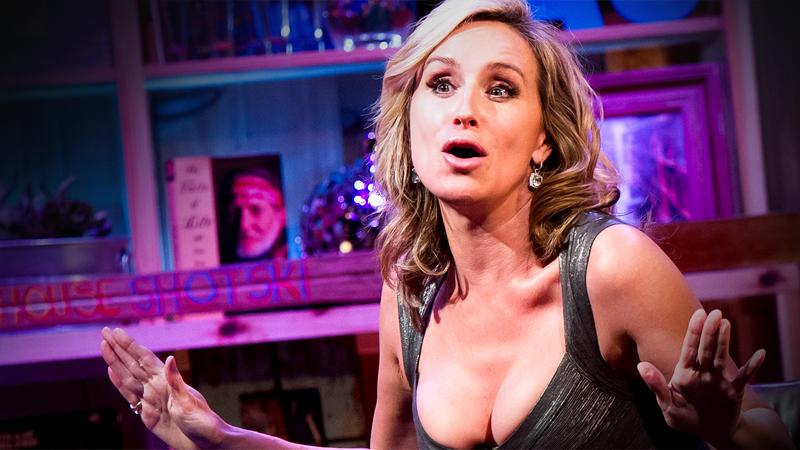 Sonja Morgan is on the defensive after recent reports claimed her bankruptcy filing was forcing her to sell of her homes. Now, in an exclusive interview with RadarOnline.com, Morgan is fighting back against reports she's "broke," and slamming her co-stars for "exploiting" and exaggerating her financial issues!
"Broke as a joke?! I am in a Chapter 11 reorganization, I am not in a Chapter 7 which is a liquidation," Morgan told Radar. "To say I am broke while I am working and my daughter Quincy, 13 is thriving under such immense pressure is unfair."
Article continues below advertisement
Other than her dating drama on The Real Housewives of New York City, Morgan has made headlines for financial trouble since 2010, when she declared bankruptcy after having to pay back a $7 million judgment that resulted from a movie deal gone bad.
What makes her financial setback even harder to bear, she says, are all the insensitive remarks made by her Big Apple gal pals — especially those caught by the cameras.
Article continues below advertisement
Morgan, who was married to John Adams Morgan, the great-grandson of financier JP Morgan, recently sold her holiday home in the South of France under the watchful eye of a trustee in her bankruptcy case. Preparations for the sale forced her to miss Thompson's anniversary bash, which played out on the show.
"I texted Heather to let her know I would not be at her anniversary party and to let her know I was going to France expressly to open my home to prepare it for sale and simultaneously look for financing in Switzerland on the French home to satisfy part of the $7 million business debt," explained the 50-year-old socialite. "For her to say at her anniversary party that she is disappointed I was not there was disingenuous because she answered me 'No problem, see you when you get back.'
In addition, Morgan insisted, "For Ramona to say I was bankrupt and losing my house was obviously her being distracted with her own worries since she knew I was in the process of selling France and I can always get financing on the New York home since I own it free and clear!"
The single mom, who unloaded the exclusive French property to her neighbor, said she had always planned to sell the getaway spot regardless of the millions she owes.
Article continues below advertisement
"I always had conversations with my neighbor personally about buying my property. What neighbor in the South of France doesn't want another slice of paradise to grow their family dynasty?" she said of the sale, which had been in the works for two years. "I also had two other buyers I called personally. I did not need a broker to sell my home, nor did I need a trustee to sell my home to my neighbor or my friends.
"Saying I am desperate and had no control is ridiculous," Morgan added. "I had no problem selling my house in France. If I were broke they would have liquidated me years ago!"
Now that the veteran reality star is earning a whopping $426,000 per season, as exclusively reported by Radar, she's clearing up her financial issues all on her own.
"I am living in my townhouse in Manhattan and paying the bills every month and supporting my daughter after my divorce with no divorce settlement," she said. "That means I am personally working and supporting my properties in New York, France and elsewhere. If one doesn't do that, you don't get to reorganize and pay your debt."
Article continues below advertisement
Morgan said she just wants to put this burden behind her for the sake of her daughter.
"I want to move on with my life, settle my business debt because I have so many personal opportunities and this stress has been weighing on me and my daughter. It's too much," she said. "She's so innocent and she has so much to enjoy in life. Every night at dinner she has to hear 'are we going to have a house to live in in New York?'
"I've never lived in fear and I am going to continue to create a successful life," Morgan insisted. "Everything I ever dreamed and set my mind to has come true."