'RHONY': Sonja Morgan's Sexy Date With Aviva Drescher's Ex-Husband: 'Your Boobs Look Perfect,' He Says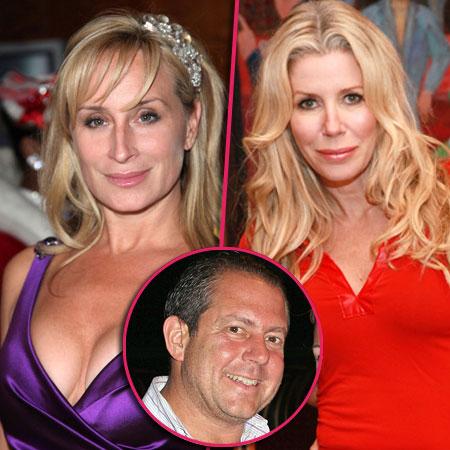 Sonja Morgan left her boy toy behind to go out on a date with an older man on Tuesday night's The Real Housewives of New York City: co-star Aviva Drescher's former husband, wealthy real estate investor Harry Dubin!
"You look incredibly beautiful," the rumored womanizer told Sonja as they sat down to dinner. "Your boobs look perfect."
Sonja didn't miss a beat, flirting back, "You love them?! Nothing a little bra and a little Yves St. Laurent can't do."
Article continues below advertisement
Dubin, who raises a son, Harrison, 12, with ex-wife Aviva, then poured it on some more during the TV segment, asking Sonja, "What are you doing later, after this?"
Sonja sputtered, "Can we have dinner first? You cut to right to the chase!"
According to what Sonja then told Bravo's cameras, her love life was getting way too complicated because she's been juggling multiple guys.
"Things are heating up in different corners at the same time," she said.
Harry queried her about her much younger boyfriend, Ben Benalloul, and Sonja admitted he wouldn't be happy about her dinner date with Harry.
"Then don't tell him," shrugged the real estate magnate.
Harry suggested they hang out "a lot" but she cited being swamped with business deals.
Outrageous Extravagance! The Secret Life Of Socialites Revealed
"Do you want to get married again?" he asked Sonja, and she said she did!
Article continues below advertisement
"We probably should get married, you and I, because we've exhausted the list and the other girls are getting too young for you," she smiled.
Harry, who was said to have been an old flame of Sonja's during a previous RHONY season, then told her she was timeless: "You know I love you."
"I love you, too," she said.
Although he implied they should have sex, Sonja told the cameras she enjoyed having a cat and mouse game with a guy and told Harry "not tonight."
And in an earlier scene, Harry had told Aviva that he would be taking Sonja out -- and his ex-wife, who has remarried, to Reid Drescher, didn't seem to mind.
"We could rekindle this thing, who knows?" Harry said as their son Harrison awkwardly stood by.
Aviva told the cameras that Sonja and Harry were very similar because they both liked to have a good time.
"It doesn't bother me who he dates and what he does. I'm pretty immune to it," she said in a confessional segment.
Article continues below advertisement
Another hot storyline on Tuesday's show involved Aviva writing her memoir (which was recently published as Leggy Blonde), seeking advice from fomer journalist co-star Carole Radziwill, and then accusing HER of using a ghostwriter.
During lunch together, Aviva told Carole she'd written her book all by herself and it was just like emailing, which made Carole see red.
Carole thought as a non-professional writer, she needed help to put it together.
Watch the video on RadarOnline.com
But things got worse when Aviva asked Carole if she herself had hired a ghostwriter to complete her 2005 bestseller What Remains, about her life with husband Anthony Radziwill, who died of cancer.
Later, Aviva told pal Ramona Singer that with Carole, "I felt completely one-upped and put down. She was so condescending."
Aviva told Ramona she'd heard a rumor that Carole's book ultimately needed a ghost writer, former Atlantic magazine editor William Whitworth.
Article continues below advertisement
How Housewives Stars Go From Home To Hot – See The Photos
Meanwhile, Carole told the other housewives she felt she had to defend her 20-year writing career to Aviva.
Aviva later shrugged to Ramona, "It takes a village to write a book."
But at a housewarming party at Aviva's, where all the housewives congregated, Carole sighed, "I don't hire people to help me."
When Ramona told Carole about Aviva's comment that Whitworth had secretly helped her write What Remains, the widow told the camera it was a lie.
Carole demanded a pow-wow with Aviva at the party, saying she was attacking her writing career, and Aviva said she felt belittled by Carole's attitude.
What's more, "the word on the street," is that she'd had her book worked on by Whitworth, Aviva insisted.
"You've written one book. You think you're John Grisham? Stephen King?" Aviva asked.
"You lie about everything."
Carole then fumed, "You're nothing. You never had a job outside the home!"
To be continued? Hell, yes! A promo for next week's episode showed the conflict between the two women will even get physical.
The Real Housewives of New York City airs Tuesdays on Bravo at 9/8c.