Show Me The Money! New York Housewife Sonja Morgan's Salary REVEALED — Documents Expose How She Made $426K On Ratings Challenged Bravo Show!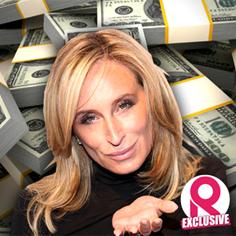 Article continues below advertisement
The documents filed by Hannibal Pictures, the production company that sued Morgan for failing to raise money for a movie involving John Travolta, states, "Morgan's current annual gross earned income of $426,500 derived from her employment as a performer on the reality television program The Real Housewives of New York, as reported in her monthly operating reports filed with the Court."
Morgan was forced to file bankruptcy because of the $7 million judgment — which reached a staggering $8.5 million total with interest and attorneys' fees included, RadarOnline.com previously exclusively reported.
Judge Rita Miller not only upheld the financial settlement, but she also gave Hannibal Pictures an additional year to enforce a lien on Morgan's earnings and assets.