U.N Involved In Push For Russian Rebels To Vacate Death Scene, As Officials Look To ID Bodies; Plus 4 Other New Developments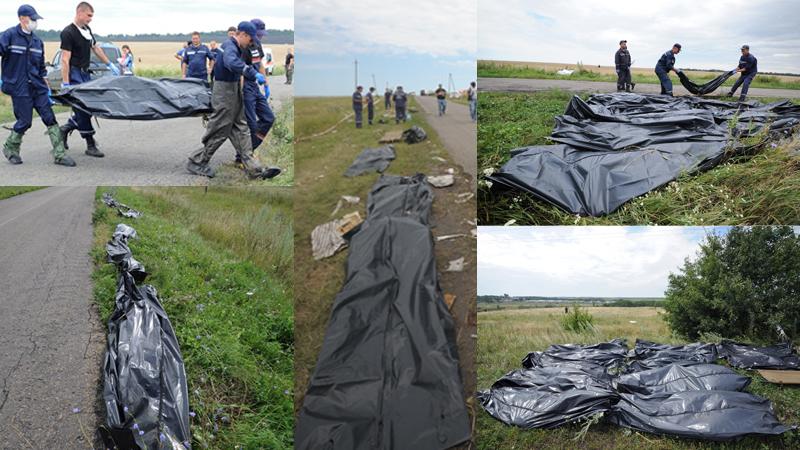 We've got the latest developments on MH17, the Malaysia Airlines plane shot out of the sky last week over the Eastern Ukraine, leaving 298 passengers dead.
Death Train
Authorities with the Dutch National Forensic Investigations Team have petitioned Russian rebels guarding the death scene to clear a link of train cars, loaded with dead bodies, to leave the area Monday. Team member Peter Van Vilet said forensic experts in Torez have "got the promise the train is going," but have yet to receive a specific time as to when that will happen. Investigators have been working to identify victims and take the bodies into custody in the area, which has been patrolled by armed rebels.
Article continues below advertisement
'Criminals In Control Of A Crime Scene'
Tensions continue to flare over the control pro-Russia rebels have had in the area, impacting investigators' speed and efficiency in combing the disaster scene. Investigators from the Netherlands, United States, Germany, England and Australia are all on hand to work the area. Australia has called upon the United Nations Security Council to issue a resolution — essentially telling the Russian rebels to honor a cease fire in the impacted region — until the identification process is completed. "This is still an absolutely shambolic situation; it does look more like a garden clean-up than a forensic investigation," Australian Prime Minister Tony Abbott said. "Given the almost certain culpability of the Russian-backed rebels in the downing of the aircraft, having these people in control of the site is a little like leaving criminals in control of a crime scene."
Stench Of Death
Reporters with the Associated Press said authorities have used masks or other devices to sheik their noses from the overwhelming smell of decaying human remains, nearly five days after the plane went down. One issue contributing to the odor, the AP reported, was a temporary power outage on on the trains, causing their air conditioning systems to crash for a time, but a train engineer confirmed the systems were back up early Monday.
Article continues below advertisement
More Bodies Recovered
Twenty-one additional dead bodies were recovered by emergency workers early Monday, some from the crash site and others from fields in the nearby Hrabove village, authorities said. Twenty-six of the 298 bodies have yet to be recovered or identified,
according to Ukrainian officials.
'Powerful' Evidence Russian Rebel Responsible: U.S.
U.S. Secretary of State John Kerry said Sunday that "a buildup of extraordinary circumstantial evidence," including "powerful" video and audio recordings, indicate that the crash is the result of Russian rebels. "Russia is supporting these separatists," said Kerry. "Russia is arming these separatists; Russia is training these separatists."
Watch the video on RadarOnline.com: