Shameful! U.K. Reporter Rifles Through Dead MH17 Crash Victim's Luggage, News Station Later Offers Apology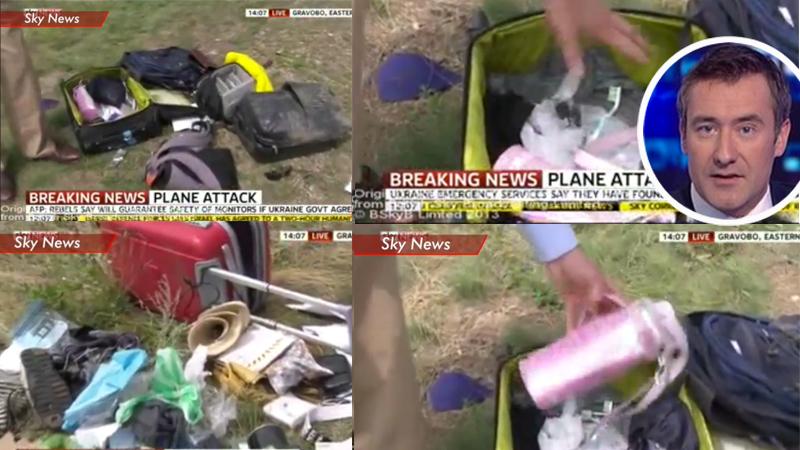 One unknown Malaysia Airlines Flight 17 victim's privacy was grossly invaded by a U.K. news reporter- on live TV.
During a Sunday afternoon newscast from the Ukrainian crash site, Sky News presenter Colin Brazier was seen rummaging through a slain passenger's personal belongings.
"We shouldn't really be doing this, I suppose," Brazier said as he nonetheless picked up what appeared to be a child's water bottle, a toothbrush and a set of keys.
Article continues below advertisement
Top Ten Most Famous Plane Crashes
Viewers and journalists alike expressed their disgust at the host's actions.
"Just astonishing," British reporter Jacqui Oatley said before retweeting the shocking Vine video of the incident.
Sky News promptly apologized for Brazier's behavior.
"Today whilst presenting from the site of the MH17 air crash Colin Brazier reflected on the human tragedy of the event and showed audiences the content of one of the victims' bags," a spokesperson said in a statement. "Colin immediately recognized that this was inappropriate and said so on air. Both Colin and Sky News apologize profusely for any offence caused."
The 295 victims have been unable to rest in peace since the horrific crash, believed to have been caused by Russian-backed separatists' missiles. According to ABC News, rebels in Ukraine moved the bodies of 196 victims into refrigerated trains in the town of Torez, nine miles away from the crash site.
The rebels reportedly forced government emergency workers to give them the bodies.
While many of the victims from Thursdays crash were from the Netherlands, Malaysia, Australia and Indonesia, one passenger- Amsterdam business school student Quinn Lucas Schansman, 19- was a United States citizen.