Kardashians Can't Take A Joke! Joan Rivers Says Family Is 'Mad' About Slams In Comedian's Blistering Book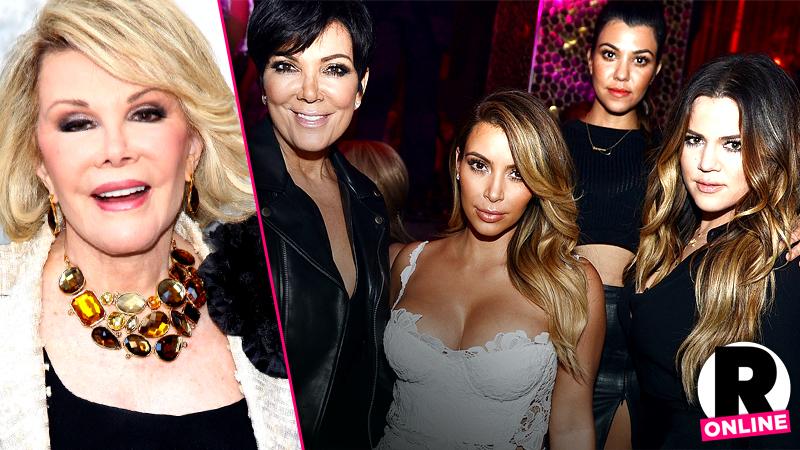 Article continues below advertisement
Later in the book, the 81-year-old Fashion Police co-host wrote that she loves taping her reality series Joan & Melissa: Joan Knows Best? because she feels "like one of the Kardashian girls, except I don't have a sex tape or black hair."
Rivers also blasted Kim's husband, Kanye West, 37: while relaying the most absurd celebrity children's names, the author noted, "Kanye West's new son is going to be named P*ssy in honor of where he came from." She even dedicated the entire tome to West, because "he'll never f*ckin' read it." (The rapper once called himself a "proud non-reader of books.")
Now, in her Daily Beast interview, Rivers has admitted, "The Kardashians are the gift that keeps on giving. Just Kim's wedding… I said I'd caught Kim's bouquet, the first thing I ever caught from Kim that I didn't have to get a shot of penicillin for."
The comedian said when she runs into the Kardashians at E! (also the network for Rivers' show, Fashion Police) "I always say, 'Stay famous, or I'm going to lose seven to ten minutes of my act.' "
Article continues below advertisement
Kardashian, 33, refused to speak to the notoriously outspoken funnywoman and fellow E! reality star at a New York event in May after she called her baby daughter North West "ugly" during a stand-up gig.
And now, she and the rest of the Kardashian clan apparently can't put up with more of Rivers' jokes about them.
But Rivers pointed out in her interview that she loves celebrities who CAN take a joke: "The ones who aren't upset are the smart ones who laugh at it and know it's silly."
And Rivers added of Kardashian family matriarch Kris Jenner, 58, "I think the mother is the smartest woman in world: She took the entire family, and now the next generation, and made them celebrities for doing nothing. I think that's brilliant. I want to sit at her feet and take notes."
She made no apologies for telling celebrities, including the Kardashians, the way she sees it!
"I told the truth. I don't think it's rude," Rivers said.