Joan Rivers Gets Caked At Pre-Oscar Bash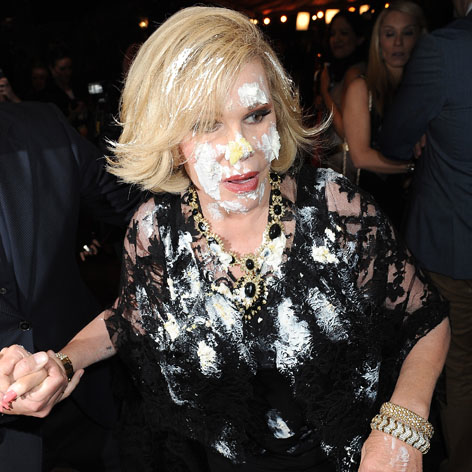 Was it real or was it a stunt? That's the question everyone is asking after Joan Rivers ended up covered in cake at the 5th Annual QVC Red Carpet Style event Friday night.
Rivers, who has a jewelry line she hawks on the shopping network, made a glamorous arrival on the red carpet, smiling and posing for pictures.
Minutes later, she was seen covered in cake -- it was all over her face, in her hair and down the front of her dress.
Article continues below advertisement
No one has yet come forward claiming responsibility for the act. And, oddly, there were no photos capturing the cake attack at the pre-Oscars party and no eyewitnesses have turned up.
Rivers hasn't publicly commented on the caking either.
Other A-listers who attended the event at the Beverly Hills Four Seasons -- and escaped unscathed -- included Nicole Richie , Ellen Pompeo, Sarah Paulson, Jenna Dewan-Tatum and Cheryl Burke.