Joan Won't Back Down! Rivers Reignites Kardashian Feud, Jokes About Kim's Sex Life, Kanye's Naming Habits In New Book PLUS Who She Calls 'Bulimic'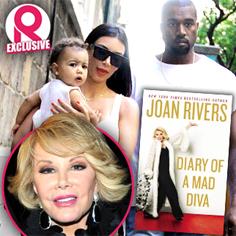 Sorry, Kim Kardashian! Joan Rivers just won't stop slamming Hollywood's most famous family.
Kardashian, 33, who refused to speak to the notoriously outspoken comedienne and fellow E! reality star at a New York event last month after she called her baby daughter North "ugly" during a stand-up gig, is at the butt of more than few dirty jokes in Rivers' upcoming read, Diary of a Mad Diva.
While talking about President Barack Obama's 2013 Inauguration, Rivers rips "If I want to see millions of smiling black people, I'll set up a camera in the hallway outside Kim Kardashian's bedroom!"
Article continues below advertisement
Later, the 81-year-old says she loves taping her reality series Joan & Melissa: Joan Knows Best? because she feels "like one of the Kardashian girls, except I don't have a sex tape or black hair."
Kardashian's husband Kanye West, 37, isn't safe from Rivers' venom, either: In an argument about the most absurd celebrity children's names, the author says "Kanye West's new son is going to be named P*ssy in honor of where he came from." She even dedicates the entire tome to West, because "he'll never f*ckin' read it." (The rapper once called himself a "proud non-reader of books.")
Rivers also attacks Tyra Banks, calling her a "narcissistic loser" who's "always standing up for herself and her race over perceived slights."
"For example, she'll say 'You just pushed me because I'm black,'" she says. "No, I pushed you because the train was coming right at you, you bulimic twit!"
For more celebrity put-downs, pick up Diary of a Mad Diva, in bookstores on July 1.