Exclusive
Jessa Duggar's Boyfriend Slams Catholics For Their 'Deadly Errors,' Deletes Post After He's Blasted With Criticism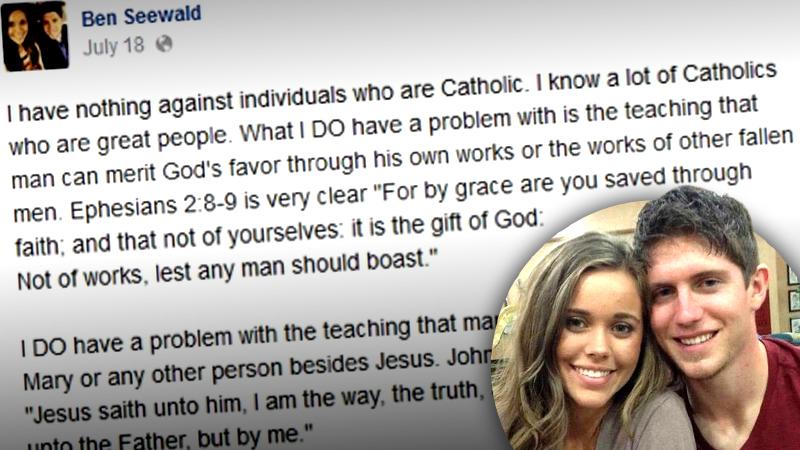 Jessa Duggar's boyfriend, Ben Seewald, published a rambling post on his Facebook page last week slamming Catholicism for their "deadly errors" and was immediately met with criticism by followers — causing the Christian crusader to delete the message.
Seewald, 19, quoted scripture and revealed his "problem" with Catholics in the July 18 post and RadarOnline.com has an exclusive screen grab.
"I have nothing against individuals who are Catholic. I know a lot of Catholics who are great people. What I DO have a problem with is the teaching that man can merit God's favor through his own works or the works of other fallen men," Seewald wrote, quoting Ephesians 2:8-9.
Article continues below advertisement
"I DO have a problem with the teaching that man can come to God through Mary or any other person besides Jesus . . . I DO have a problem with the deification of Mary as a sinless being. Mary herself admitted her need for a Savior. If she had no sin, she would need no Savior."
And while Seewald says he loves his Catholic friends, he's quick to point out that he doesn't believe that what they believe in is correct.
"Where they depart from Scripture, I will in no way support, but will call them out because I love them and desire that they be turned from their deadly errors," he concluded.
Read Seewald's full post below: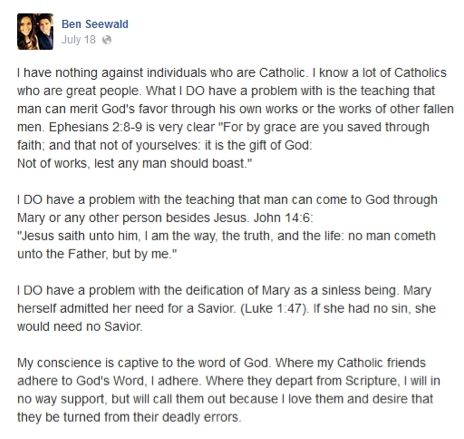 "I hope you will retract your statement about Catholics," one reader wrote in response.
"I think your intentions were good and I have no problem with you publicly disagreeing with Catholoicism, but I do have a problem with you claiming that Catholics believe something that they do not."
Article continues below advertisement
Another reader slammed Seewald for his views too, writing, "Ben is the worst. He is just the worst. This kind of 'Christian love' is one of the most sickening sentiments on the planet. It's demeaning, it's condescending, it's self-aggrandizing and it turns my stomach.
"Not to mention he got literally everything about Catholicism wrong."
His Facebook page has since been slammed with posts about his message to Catholics.
"Ben, you are nothing more that a coward. You post your almighty preachings as if you know the real truth. But, then people point out your numerous mistakes, you take your post down or just erase all the negative things," one said.
"Grow up boy and face the truth."
Another suggested Seewald just delete his page altogether.
"Have you considered just closing your FB page? Some of these posts are getting disturbing and certainly aren't christian. Does your church teach you to bind spirits?"
Michelle and Jim Bob's daughter Jessa, 21, has been heavily courting with Seewald and its been highly publicized this season on 19 Kids and Counting.
Jessa and Seewald are expected to follow closely in the footsteps of her older sister, Jill, who just married Derick Dillard after courting via Skype and in person for a few months.
What do you think about Ben's post, and what does him deleting it tell you? Sound off in the comments below . . .