Gun-Toting Duggar Daughter! 'Courting' Daughter Jessa Slammed For Posing With Rifle, But Her Boyfriend Fits Right In With Conservative Family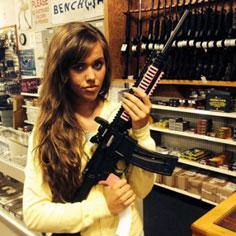 Article continues below advertisement
"My AWESOME girlfriend. #DontmesswithJessa," Seewald wrote, and while many commenters complained about the provocative picture, even more were supportive in their notes.
"Only extremists think that weapons kill people, get your facts straight, a person has to pull the trigger. For the time being we have the right to bear arms!" one person wrote.
Another had a different opinion, writing: "Wow, would Jesus carry that weapon?"
Dad Jim Bob previously told RadarOnline.com that the family (who have all been trained in gun safety) "We believe it is important for children to learn safety about guns and knives. To learn how to use them properly and to learn not to use them to hurt others but to use them as a tool," and said that gun ownership is "One of our constitutional rights."
Also a strong advocate in the anti-abortion movement as the Duggars are, Seewald has plastered his page with messages about ending the medical procedure.
Article continues below advertisement
"Abolish abortion. Abortion is a matter of life and death. We must abolish abortion!," he writes, and responds to commenters who criticize his views.
"What if people had the same attitude towards slavery? Imagine an abolitionist speaking out against the horrors of the slave trade and someone saying "Calm down...just accept the fact that it's a personal choice to buy a slave. If you don't like slavery, then don't buy one."
25 Celeb Couples We'd Like To See
His girlfriend shares his opinion as well and she and her sisters even wrote about abortion in their book Growing Up Duggar.
"Even though this is happening out of God's designed order, He loves you both and will forgive you," they insist. "Abortion might seem like a quick fix to a big problem, but we personally know several women who have done this, and they have said they regret ending the life of their baby; it haunts them every day. You cannot get un-pregnant. If you are pregnant, take responsibility and take care of yourself and your baby and God will take care of you."