Exclusive
EXCLUSIVE INTERVIEW: Jim Bob Duggar Defends Gun Photo -- 'It's Our Constitutional Right'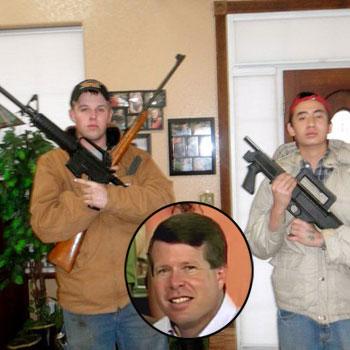 When a photo surfaced in early January of one of the 19 Duggar children holding two guns there was an uproar over the picture, and for the first time Jim Bob Duggar is addressing the photo flap in an exclusive new interview with RadarOnline.com.
John David, 20, and an exchange student visiting the Duggars went to shoot at a target and posed for a picture that was posted on their cousin Amy's Facebook page and subsequently seen all over the internet, including on RadarOnline.com.
Article continues below advertisement
"John said 'hey dad is it ok if we go do some target practice?' and I said sure that's fine because John is very responsible with guns. He's been going to gun safety classes," Jim Bob told RadarOnline.com.
"They were both being silly before they went out to target practice," Michelle Duggar said about the boys scowls.
Explaining that their family lives in a rural part of Arkansas and they often hunt for deer and squirrel, which they even eat!
"Squirrel meat it is really good," Michelle said as she laughed. The Duggars are known for their creative recipes, and she told RadarOnline.com they make a version of chicken and dumplings, but they use squirrel meat.
"You need a lot of squirrels to feed our family," Michelle admitted.
The Duggars stressed that gun safety is the top priority in their house. They keep their guns in a safe that can only be accessed by a few family members, and everyone who handles the guns has taken gun safety classes.
Article continues below advertisement
"We believe it is important for children to learn safety about guns and knives. To learn how to use them properly and to learn not to use them to hurt others but to use them as a tool."
With the nation shocked by the shooting of Representative Gabrielle Giffords and other innocent bystanders in Arizona, Jim Bob expressed sympathy for the victims, but defended the right to bear arms. "That is one of our constitutional rights."
"It was tragic what happened with the Arizona shooting that someone would be in that state of mind," Jim Bob told RadarOnline.com. "But people have been knifed before and we've all used knives to cut a steak or open a box. It's really not the gun or the knife it's the person that has it in their hands."
Check out the Duggars on 19 Kids and Counting on TLC Mondays at 10 pm.
Related Stories: