Exclusive
EXCLUSIVE: Raising Sextuplets' Mom Says Family 'Very Sad' After Marriage Split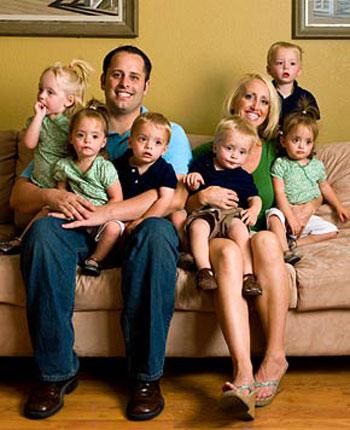 The mother of Raising Sextuplets star Jennifer Masche has spoken out about her daughter's decision to end her marriage to husband Bryan, admitting the shattered family is "very, very sad" about the move.
The-mom-of-six's life has been turned upside down after she filed for a legal separation from her troubled husband, as RadarOnline.com exclusively revealed.
The couple's six-year marriage imploded after a fight at the Arizona home of Bryan's in-laws, Sue and Robert Simbric, which resulted in his arrest on September 11, 2010.
Article continues below advertisement
Bryan had threatened to "flatten" his father-in-law.
Sue Simbric told RadarOnline.com, in an exclusive interview, she was sad about their marriage split.
She said: "We're very, very sad, about the split. Other than that I cannot comment on my daughter's marriage."
EXCLUSIVE PHOTO: The Smiling Mug Shot Of TV's 'Raising Sextuplets' Dad
When contacted, Bryan wouldn't comment on his wife's decision to file for a legal separation.
The news has stunned executives at We TV who had pinned their hopes on the couple – who had been receiving marriage counseling – on becoming a more positive role model for America than celebrity train wrecks Jon and Kate Gosselin.
A spokesperson for We TV said: "Out of respect for the Masche family and their privacy during this time we are not going to comment."
Following the argument at his father-in-law's Arizona home, Masche allegedly refused to comply with deputies' commands.
Article continues below advertisement
He was later arrested.
Their children were not in the house at the time of the incident.
911 Call - Hear The Audio On RadarOnline.com
He was taken to the Yavapai County Detention Center where he was booked and released on a $3,500 bond.
Jennifer is a physician's assistant at a hospital in their new hometown of Destin, Florida.
Their sextuplets -- three girls and three boys -- were born in Phoenix, Arizona, on June 11, 2007.