Exclusive
Nightmare Mom? Brandi Glanville Under Fire AGAIN For Tweeting Half-Naked Pic Of Sons, Fans Slam 'Inappropriate' Pic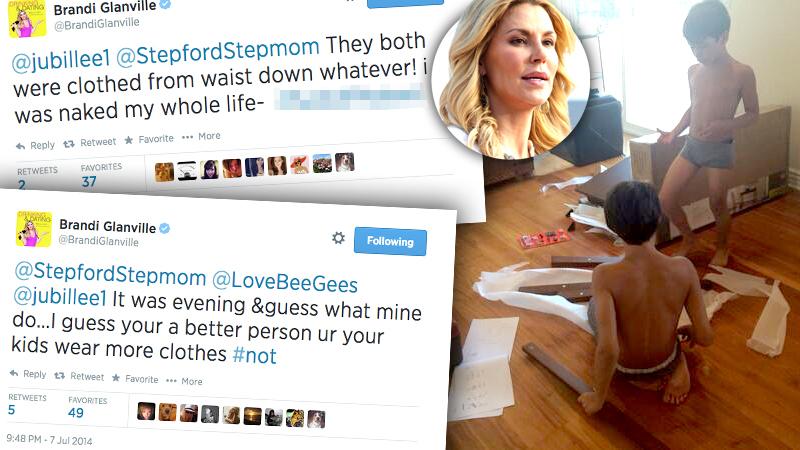 Brandi Glanville just can't win. Only weeks after fans slammed the Real Housewives of Beverly Hills star for joking about her "a**hole" son on air, the reality TV mom is under fire yet again after tweeting a pic of her sons in their underwear. After fans ripped her apart for the "nasty" pic, Glanville of course came back swinging — and RadarOnline.com has all the details.
The latest mama drama started innocently enough, when Glanville posted this photo of her sons with Eddie Cibrian, Jake, 7, and Mason, 11, building a desk.
Article continues below advertisement
Proud mom Glanville wrote, "My little helpers are trying to build Jake's desk!"
But Twitter critics were quick to pounce calling the pic "inappropriate" and slamming her parenting skills.
"Sorry … it's not appropriate to post pics of kids only in their underwear," @Marissa_saysso wrote.
User @JosephVLopez agreed, "It's very inappropriate!"
And @SusanSavoieRich wrote, "I too don't think it's appropriate to post your kids in their underpants on Twitter … just sayin!!"
Never one to keep quiet, Glanville was quick to hit back.
"They both were clothed from waist down whatever!" she wrote. "I was naked my whole life- #f*ckoffhaters"
She continued, "It was evening & guess what mine dowear their underpants around the house…I guess your sic a better person ur your sic kids wear more clothes #not"
"You can't post a pic or tweet without haters!" she continued to rant. "I think this Halloween I will pass out Lexapro to all the kids parents #gethappy"
Do you think the picture was inappropriate? Do you think she's a good mom? Let us know in the comments!