Exclusive
Brandi Glanville Is An 'Abusive, Incompetent Parent,' Top Doc Says, After She Called Her Son A 'Complete A**hole, A 'Dick,' & A 'F*cker'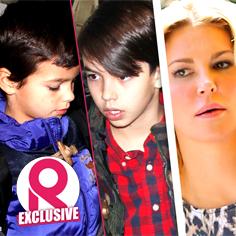 Brandi Glanville's shocking rant where she called her youngest son a "complete a**hole," a "d*ck" and a "f**ker" has caused a swift backlash against her and RadarOnline.com spoke with a nationally recognized expert in parenting and childhood trauma who described her words as "abusive" and said she is an "incompetent parent."
The Real Housewives of Beverly Hills star made the offensive comments about her 7-year-old son Jake Cibrian on her recent podcast Brandi Glanville Unfiltered.
Article continues below advertisement
Dr. Cornbluth, who has not treated Glanville or her children with ex-husband Eddie Cibrian, said she was shocked by the rant, telling Radar using derogatory terms about her children "is not even funny. This is sending out the wrong message."
She continued, saying "She did it I'm sure to bring herself publicity but I'm appalled by the names she called her son. Kids out there are being called that every day and it's called emotional abuse."
Article continues below advertisement
Glanville also called Jake a "f*cker," which shocked Dr. Cornbluth as well.
"Who knows who has listened to this interview? It makes me believe she is saying it at home. And if you say 'go f*ck yourself' to a kid, they're like sponges, they soak up anything. There is no excuse for this."
Dr. Cornbluth warned that Glanville should always be mindful of her actions.
"You always have to be the best role model for your kids. In the home, outside the home, on TV. You never know who is looking so you should always be their best role model."
Glanville, the usually prolific Tweeter, has stayed silent on the controversy about her lewd comments about her child.