'What Have You Done To Your Face?!' Fans Slam Brandi Glanville's No-Makeup Selfie — As Leann Rimes Spends Fathers Day With Her Ex Eddie Cibrian & Sons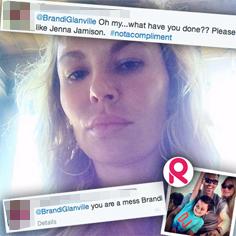 The Real Housewives of Beverly Hills star Brandi Glanville got really real on Sunday, tweeting out a no-makeup selfie to her TK fans. But the reality star quickly learned that many prefer the primped and prepped version she presents on the small screen — when several weighed in with nasty comments slamming her looks and asking, "What have you done to your face?!"
Glanville clearly believed the back-lit shot was a flattering one, writing, "Feeling like an angel but can't stop sinning."
Article continues below advertisement
And while some followers agreed that she looked "beautiful," others didn't hold back in their criticism.
"You are a mess Brandi," @EbonyDeborah slammed.
"Get over urself Brandi, you're not that pretty," @GoldenGirllisa wrote. "While you're looking at yourself your date is checking out young hot girls."
User @Kimanese Worte, "Oh my … what have you done?? Please stop, you look like Jenna Jamison. #notacompliment"
And @susanmcgahie wrote, "Oh my gosh… what have u done to ur face???? Not being mean, but I would sue ur surgeon :("
Glanville has previously admitted to "overdoing it" with Botox.
Should she have anticipated Twitter users' responses? Just hours before posting the selfie, she tweeted, "twitter is so mean anymore I rarely look at it, it's incredibly unhealthy I don't understand Y people are so horrible."
Meanwhile, Glanville was spending Fathers Day solo as her nemesis Leann Rimes posted happy family pics with her ex, Eddie Cibrian, and sons Mason and Jake, captioned "Happy Father's Day from the Cibs":
Do you think Glanville looks better with a face full of makeup or did her followers cross the line in their criticism? Let us know in the comments!