Bad Botox? Brandi Glanville Admits To 'Overdoing It' With Plastic Surgery In F-Bomb Filled Rant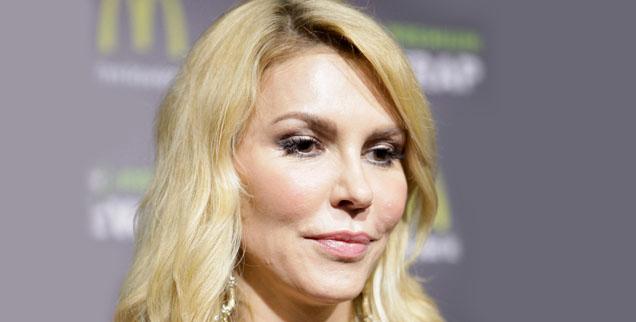 Brandi Glanville isn't shy when it comes to talking about her plastic surgery procedures -- recently admitting she's overdone it at times.
During her recent PodcastOne show, The Real Housewives of Beverly Hills ranted about a journalist who wrote that she had "alien-esque cheekbones that whispers had work done."
"Go f—k yourself!" she said, in true Glanville form. "These are my cheek bones."
But Brandi admitted she's not a stranger to the plastic surgeon's knife and her list of procedures has included breast augmentation, vaginal rejuvenation, and facial fillers.
Article continues below advertisement
"Get an X-ray machine in here. I've had my boobs done and my vagina tightened.. and I've had some bad botox and bad fillers. That's f—king it," she ranted.
"I admit I've overdone it at times, but mama is f—king 41. Go f—k yourself! There's a learning curve, and I want to be youthful forever," she said.
As RadarOnline.com previously reported, the gorgeous Real Housewives of Beverly Hills star admits she has come under fire for her plastic surgery secrets, but she is learning to cope with all of the criticism.
"Having grown up modeling, I'm very self-aware of my physical appearance," the mother of Eddie Cibrian's children told SHAPE. "It's hard to grow older, especially in this town where everyone is perfect! They're all 20 years old and gorgeous, and I'm now in the same dating pool as them, yikes, it's really hard! This town makes you insecure."
Although she is enjoying her life in the public eye, Glanville admits that not everyone is a fan of hers.
"People have said horrible things like I'm 'plastic' and I'm a bad mom. I think after three years of hearing it I have just developed a thick skin," she says. "I think it's human nature, and I know what they say isn't true so I've learned to not take it to heart."