Exclusive
Brandi Glanville's Latest Low Blow: She Plays A Cheating Song Indirectly Dedicated To Ex Eddie Cibrian And LeAnn Rimes At Her Son's Birthday Party!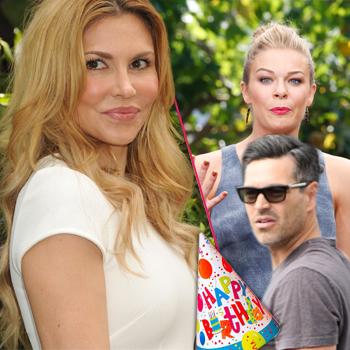 Article continues below advertisement
Only now, she's taken it to an all-time low, even if it means causing a scene at her son's very own birthday party, RadarOnline.coms has learned exclusively.
According to a source, the Real Housewives of Beverly Hills star wanted to create drama at Sky High Sports Trampoline Park in Woodland Hills, Calif. on Sunday where 11-year-old Mason celebrated his big day, so the mom-of-two decided to indirectly dedicate a special song to Cibrian and Rimes.
Article continues below advertisement
Unphased by the feuding exes, Rimes, 31, even tried to extend the proverbial olive branch by chatting with Glanville's friends and even the reality star herself.
"LeAnn went out of her way to say hello and goodbye to Brandi, and even sat right across from her and tried to talk to her," added the source. "But she refused to look at LeAnn in the eye and only gave half a** responses."
The country singer even brushed off the 41-year-old's juvenile antics
"She thinks it's childish. She just laughed," continued the source. "Brandi exploits her kids all the time. She used her son's birthday party to cause drama… she's a sad mother."