Exclusive
Will You Accept This Key? 'Bachelor' Winner Courtney Robertson Reveals Fantasy Suite Secrets Ahead Of Bachelorette Andi's Big Night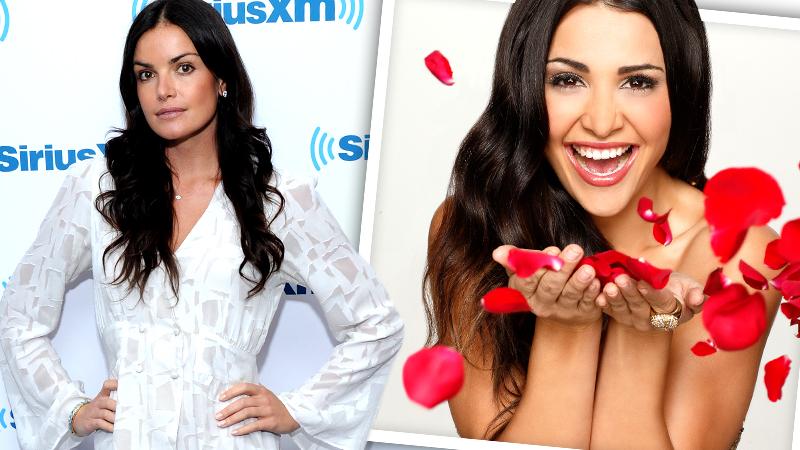 Article continues below advertisement
Robertson, who vied for the affections of Ben Flajnik during Season 16 in 2012, says she was relatively unfamiliar with the fantasy suite fairy tale before joining the show — but came prepared nonetheless.
"I hadn't really watched the show religiously, but I kind of assumed what goes on in there," she tells Radar. "I thought ahead. I packed lingerie."
And as her relationship with Flajnik unfolded in front of the cameras, Robertson says the fantasy suite remained the white elephant in the room, looming large at the end of their time together. So focused on staying in the moment with Flajnik, she didn't even discuss it with him until the actual night itself.
"It didn't even come up until the date!" she explains. "I knew that it was an option, and that this was the night he would offer. As much as he really liked me, I didn't know for sure. He brought up, on that date, the other girls. I was so sick of him asking me about the other girls … I was so pissed at that point. But I thought, I owe it to myself to see if we even have anything. I was having doubts the whole time I was there, the way it was coming about."
Article continues below advertisement
Those doubts evaporated inside the Swiss chateau that producers had rented for the couple — and stocked with the ingredients for romance.
"The Bachelor is very good at romance," Robertson admits. "There was a bowl of popcorn, which is my favorite snack. I was wanting to thank him for it, but then I realized that it's the producers who know I really like popcorn, and he actually had nothing to do with it."
One thing that producers neglected to include? Condoms.
"I didn't realize how big of a deal that was when we wrote the book!" Robertson says. "Everyone gets tested before the show and I was on the pill. Maybe we were a little bit too in the moment. If I had known I was the last one to get a fantasy suite date, I would have definitely thought about it more."
She jokes, "I'm surprised there hasn't been a Bachelor baby!"
MORE ON:
Courtney Robertson
Article continues below advertisement
But despite the overtones of romance, Robertson says that for her and Flajnik the experience was really more of an opportunity to connect without cameras rolling.
"It's such an unnatural situation, but in the moment you're so excited," she remembers. "It was the first time, other than skinny-dipping, to talk to him without the cameras and get to the bottom of could we work, how do you really feel about me. Viewers watching really don't connect with that aspect. I do know most people don't sleep with everybody, but just use that time to talk to that person."
And on her big night with Flajnik, "We didn't waste any time, that's for sure," Robertson says. "Days are so long there, and I was so tired. We tried to stay up all night so we could talk, and we were laying in bed pretty intimate, and I fell asleep around four or five in the morning. The producers came around 6 am, and the rose ceremony was that night."
"As much as I view the relationship differently now, it was probably one of the most romantic nights I've ever had," she continues. "It was passionate and really romantic. It wasn't awkward at all. It was like, 'Wow, we're alone for the first time!' I really got to hear his voice, how he felt about me. You get to see the true personality come through a little more, because people aren't watching what they say as much."
Article continues below advertisement
Flajnik proposed to Robertson the next night, but unfortunately the relationship went downhill from there, and after many attempts to make it work, they called it quits in November 2012. How can Dorfman avoid a similar fate after she gives out her final rose on July 28?
Robertson confesses, "I really wanted it to work with Ben. But there was a silence between us at times. Some couples can just be quiet together in the comfortable silence and he and I didn't have that. When it was quiet, it was dead quiet. It was uncomfortable. And there were major differences between our personalities."
Looking back, she says, "If you're in love and you want to start a life with somebody, don't overthink it and hesitate. If he would have asked me to move up there from Los Angeles to Northern California and live with him, I would have. But he didn't ask."
Despite that heartache, with I Didn't Come Here To Make Friends sitting on the New York Times bestseller list and other big career offers rolling in, Robertson is enjoying her new reality.
"I'm so happy," she says. "I'm so content. At this point in my life, I thought I would have been married. But I just am actually happy. I'm dating. More than ever, I know what I want and I know what I don't want. I'm trusting this time in my life and I'm having fun with it!"
For more Bachelor secrets, pick up I Didn't Come Here To Make Friends: Confessions Of A Reality Show Villain on stands now!