Exclusive
How To Make A 'Bachelor' Marriage Work: Trista Sutter Shares 5 Tips On How Sean Lowe & Catherine Giudici Can Survive As Husband & Wife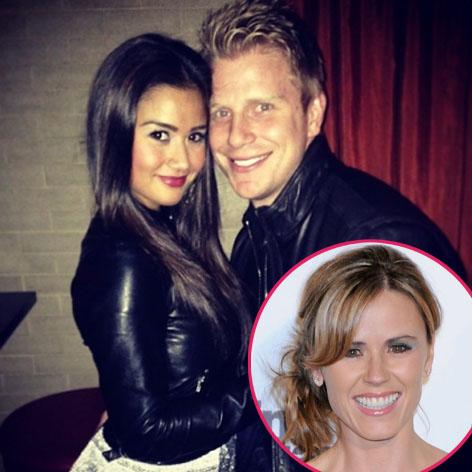 It's rare for a couple who met on The Bachelor or The Bachelorette to make it for the long haul, but Sean Lowe and Catherine Giudici are defying the odds of the Bachelor nation: they united in marriage during a live, televised wedding Sunday.
RadarOnline.com got the chance to catch up with former Bachelorette star Trista Sutter who is happy married to her husband Ryan (she met him on the show) and she shared five tips on how Lowe and Giudici can make their marriage last.
Article continues below advertisement
1. Make Your Relationship The Top Priority In Your Life
"A huge tip is knowing that it's really hard work and putting that work in," Sutter told Radar. "Comparing your relationship to the other things in your life like your job, your friends, your fitness, all those things... how much effort and energy do you put into those things compared to your relationship? You just need to make sure your relationship is top priority. If they consciously put the time and effort into their relationship, they'll reap the benefits."
2. Embrace Your Friendship
"Enjoy life and have fun together embracing your friendship," Sutter said. "It seems like they are on a great path to that because they have a great friendship and whenever I see them, they're always having fun together. Just continuing on that route will lend itself to being helpful in your marriage."
3. Openly Express Your Gratitude
"Try to focus on gratitude and have a grateful heart," she said. "If you don't outwardly appreciate each other or consciously focus on the fact they're a blessing in your life, then you'll run into issues. You're life will be happier together if you're grateful for each other being in it and express that. I talk about it in my book Happily Ever After: The Life-Changing Power Of A Grateful Heart."
Article continues below advertisement
4. Try To Get Away From It All
"Try not to, as much as possible, let the hype of Hollywood get to you," Sutter said. "Really focus on your relationship and spend quality time together. Take advantage of some little things that pop up here and there, but don't make the focus of your relationship the cameras and the hype. One of the best things that Ryan and I did for our marriage was to move to Colorado. I think that's a huge credit to why we've been able to stay together."
5. Communicate
"You just need to openly communicate when you're really happy with each other. Leave little notes for each other. Ryan is really good at buying a card out of nowhere and leaving it on my computer," Trista said. Expressing to the other when you're really happy, when you're feeling really loved and appreciated and wanting to appreciate them. On the flip side, when you're maybe struggling with something because if you're in tune with each other, you'll be able to tell when something is wrong."
To follow up with Trista or find out where to buy her book, go to TristaSutter.com.