Diet Secrets Of The Stars! How Trista Sutter, 40, Got Her Bachelorette Body Back After Babies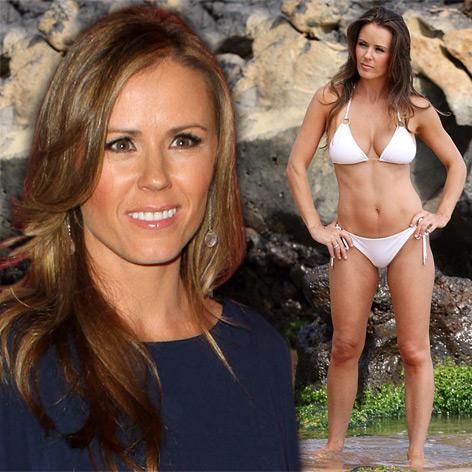 Trista Sutter is one of the hottest stars to appear on the hit shows The Bachelor and The Bachelorette, and after having two babies with hubby Ryan she's looking sexier than ever!
The 40-year-old former Miami Heat cheerleader, who has also appeared on Dancing with the Stars and Fear Factor, recently revealed the secrets to her perfect body to OK!, and RadarOnline.com has the details.
"I take Ab Cuts every day," Trista reveals about the supplement, which is available at Walmart. "It gives you the right kind of vitamins to be able to get your body primed to burn the fat more efficiently. It's not a shortcut. It's not a diet pill. It doesn't make you jittery. It just complements your diet and exercise routine in a beneficial way in order to burn fat better."
Article continues below advertisement
In addition to taking Ab Cuts, Trista maintains moderation in her diet, and admits that she is not one to completely give up foods that are "bad" for her.
"I have a huge sweet tooth, so if I have an urge to eat something sweet then I'll let myself eat something sweet," she explains, opting for a smaller portion instead of a bigger one.
"I eat bread too. I have a smoothie in the morning and then a sandwich in the afternoon with fruit. I'll eat a snack bar in the afternoon, then for dinner we usually have pasta. Ryan's really big on trying to get more vegetables in our diet. It's all about portion control and not denying your urges."
As for her workout, Trista is a fan of interval training and takes a class at her local core club with a group of other moms while their kids are in school, in order to keep her workouts fun as well as social.
"The instructor changes it up every week. I would start off with a warm-up, do three different exercises, whether it's something abs-related and then biceps and then back. They are changing it up so I canchallenge my muscles."
Article continues below advertisement
As for her nearly ten-year marriage to Ryan, Trista maintains that their relationship is stronger than ever.
"It has to do with a lot of things," she explains about the secrets to their happiness. "Ryan just makes me laugh. So, I think just looking at life as fun and enjoying it together is huge. I think committing to each other is huge. Being able to trust each other. Respecting each other. Communication. We try and incorporate all those things into our relationship."
And of course, there is also making time for adults-only romance!
"It's about taking advantage of when you can be alone – nighttime, naptime, getting away on vacation, going out for date nights when you can and scheduling a babysitter. It's important to fit in and make it a priority."