Exclusive
Foxy Knoxy Doomed? Amanda Knox Prosecutor Confirms Her Alleged Links To Cocaine Dealers, Weeks After Radar's Report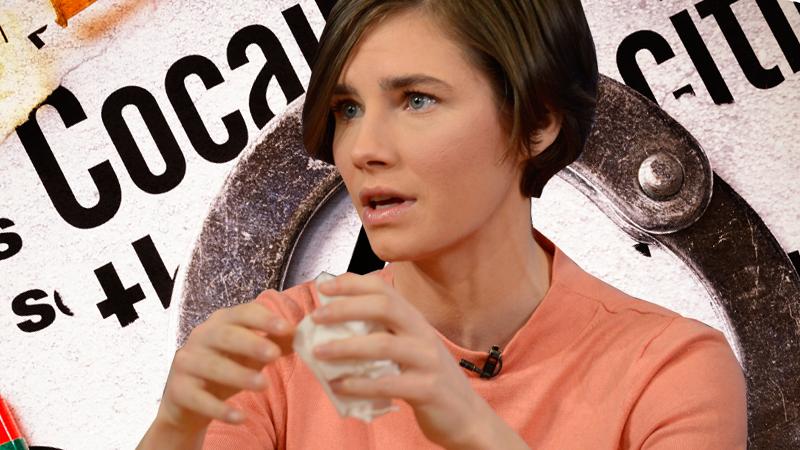 Article continues below advertisement
And according to a new report in Italian paper Giallo, the January 19, 2008 police report explicitly reads, "During the course of the investigation into the Meredith Kercher, we have confirmed that a person whose initial is 'F' would occasionally supply drugs to Amanda Knox, as well as having a relationship with her supposedly of a sexual nature."
"We will not disclose his full name or . . . last name for reasons of discretion," the newspaper continued. "But Giallo knows them."
According to the paper, "F" was a psychology student from Rome who met Knox on a train from Milan to Florence and shared a joint with her. After that, according to Giallo, "Amanda continues to have contact with F. His number is in Amanda's cell phone contacts, and they both frequently call each other, before and after the murder."
That same man — along with two friends, named Luciano and Lorenzo — was "part of a major drug ring in Perugia," author Albina Perri claims. "All three ended up on trial for dealing cocaine" and "the investigation into the ring started from the analysis of Amanda's mobile phone."
Article continues below advertisement
What's more, the paper claims, a police report on the matter fingered one "A. Luciano" as a frequent contact of Knox's pal "F." According to police documents, Luciano "was arrested … because he was responsible for a murder attempt on his brother, inflicting 16 stab wounds with a kitchen knife … during an argument over money and drug dealing" on July 28, 2006, just over one year before Knox's roommate was stabbed to death.
Police never officially named that man as a suspect in Kercher's murder. But Knox's admitted drug use became an issue in court.
As RadarOnline.com reported, even as recently as the December 2013 re-trial closing statements, Kercher family attorney Vieri Enrico Faviani told the court, "We have seen that all of this happened . . . in conjunction with taking drugs."
After RadarOnline.com reported on Knox's ties to the local drug ring, as well as her suspicious hemorrhaging of cash in the weeks before Kercher's murder, prosecutor Luciano Giuliano Mignini spoke out to local media to confirm the claims.
Asked whether Knox "knew some drug dealers" who "could have had a role in the murder," Mignini insisted "I cannot answer this," but wrote down their names, according to Giallo's reporter.
Knox has yet to comment on the cocaine claims, but Mignini warned, "Amanda knows how to lie very well. She seemed sincere and credible."
In light of the new evidence, however, he says he does not expect her to change her testimony. "I would be astonished," he explained. "She had plenty of occasions to tell her truth."