Exclusive
The CURSE Of Amanda Knox! Realtors Slash Price Of Murder House After Tenants Almost Die In Freak Gas Leak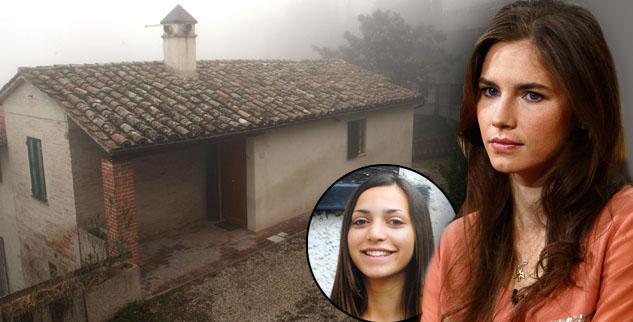 If anyone could be more disappointed in Amanda Knox's recent reconviction for the murder of Meredith Kercher than Knox herself, it's the realtors trying to sell the home where the brutal slaying happened. RadarOnline.com has learned that agents recently slashed the price of the property more than $100,000 in an attempt to engage potential buyers after Knox hit the headlines again -- and the home's tenants almost died in a freak gas leak!
Article continues below advertisement
Kercher was found brutally murdered in the Perugian villa, owned by Italian retiree Aldalia Tattanelli, in November 2007. Six years later almost to the day, eight new tenants living in the home almost suffered a similar fate when a carbon monoxide leak nearly poisoned them all in their sleep. After that, Tattanelli decided to sell.
And though the original price was just over $630,000, RadarOnline.com has learned that desperate realtors recently slashed the price more than $100,000 to just over $520,000 in an attempt to get it off their hands.
"The owner of the property really wants to sell the house," a Perugian agent for Tecnocasa real estate agency, which is handling the sale, tells RadarOnline.com exclusively. "But it has not been easy to find potential buyers who are willing to overlook the fact that a brutal murder took place there."
As such, agents are even trying to obscure the home's infamous history from potential buyers who may not be aware of the site's sordid past.
Article continues below advertisement
"The owner is adamant that everything possible be done to discourage anyone in the realtor's office from saying a word about the murder, even though it is next to impossible to hide that fact," the insider continues. "The owner hates the negative association her property has with the Meredith connection and really just wants to be free of the place now."
Despite the dark associations with the home, there has been some interest from the public -- just the wrong kind. RadarOnline.com has learned that realtors at Tecnocasa are so wary about curiosity seekers that "the company requires that anyone potential buyers make an appointment and come to the sales office in person for even general information" on the two-unit property, which comes with 5,000 square meters of land and parking for seven vehicles.
The property is described by the sellers as currently being in "outstanding condition," despite the bloody scene that once occurred within its walls.
"Frankly," says the source, "this is a tough sell in an already tough real estate market."
Would you live in a house with such a history? Let us know in the comments!