Murder House! Italian Cottage Where Amanda Knox Is Accused Of Butchering Meredith Kercher Goes Up For Sale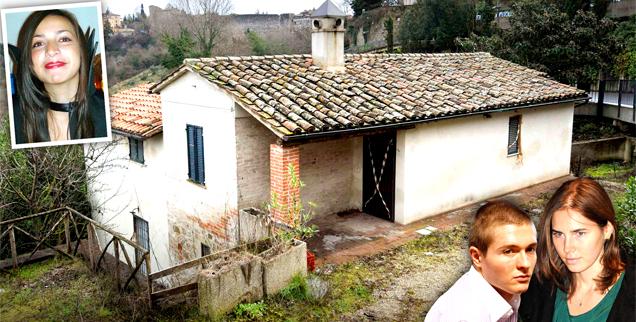 The house where Amanda Knox and Raffaele Sollecito are accused of butchering Meredith Kercher, has gone up for sale.
Knox, from Seattle, and Kercher, from the U.K., had been exchange students roommates in the cottage in Perugia, Italy for just a few weeks when she was found brutally murdered in November, 2007.
Now a real estate agent has put the 10-room cottage on Via della Pergola up for sale for about $500,000.
Article continues below advertisement
Vincenzo Russo, of the Tocnocasa agency, told the Telegraph newspaper there might be "some difficulty" in selling the house.
"We have received requests for information, and many, who are probably busybodies, have already visited our web page," he said. "I hope to exclude macabre curiosity seekers because the property has a certain value."
GALLERY: Amanda's Jail House Letters
In the U.S., sellers are required to disclose if a murder took place in a house. That's not the case in Italy and the listing makes no mention of the gruesome crime that took place there.
Despite a lack of hard evidence, Knox and Sollecito were convicted of the murder in 2009 and began lengthy prison sentences. Two years later, those convictions were overturned and the pair was set free.
But in a twist possible under Italian law, last year prosecutors were given permission to mount a new case against Knox and Sollecito, both of whom have always maintained their innocence.
Those new proceedings have already begun but Knox has made it clear she is not returning to Italy for them, allowing her Italian attorneys to continue to defend her.
The appeals court is expected to issue its verdict in January.