'This Is Wrong!' Amanda Knox Fights Back Tears As She Slams Murder Conviction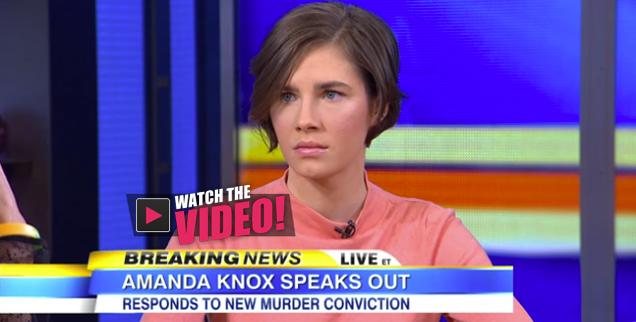 An emotional Amanda Knox is vowing to fight her murder conviction for the death of her roommate Meredith Kercher and on Friday morning she struggled to hold back tears as she railed against the verdict, saying: "This is wrong."
Appearing on Good Morning America, the Seattle native expressed her outrage at the guilty verdict and 28 year sentence the Italian justice system handed down on Thursday, telling Robin Roberts that she is "going through waves of emotions" and said she couldn't believe what she was hearing when the decision was read and that she is not prepared to return to Italy to face her 28-year sentence.
Article continues below advertisement
"It really hit me like a train," Knox revealed, with her chin quivering and her voice cracking throughout the interview.
"I did not expect this to happen."
Knox said "No, this is wrong," about her guilty conviction and said she is determined to fight, telling Roberts "I'm going to do everything I can to prove it."
Emotionally, Knox spoke about her experience, saying: "Really horrible things can happen and you have to stand up for yourself and you have to believe that it's going to be ok."