Adrienne Bailon Under Twitter Fire From Kim & Khloé Kardashian After Knocking Rob, Saying Affiliation With Family Hurt Her Career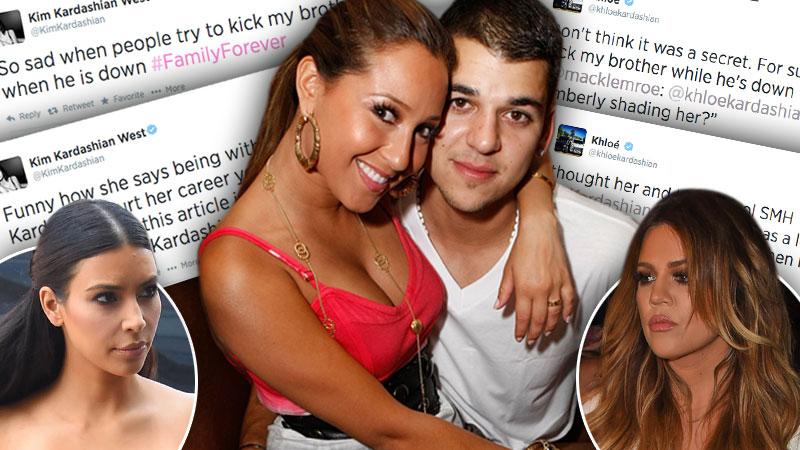 Hell hath no fury like a Kardashian scorned.
Even as Kim and Khloé Kardashian battle over their opinions of troubled younger sibling Rob Kardashian, the sisters were united in their defense of baby bro after his ex-girlfriend Adrienne Bailon grabbed a smattering of headlines down talking her ex and his famous family.
As we previously reported, the Cheetah Girls alum, 30, recently made a huge show of having his name removed from her person; and told Latina magazine that the paunchy 27-year-old was "disloyal" during their three-year relationship, and that her affiliation with the reality TV family was a bad professional move.
Article continues below advertisement
"To be stuck with that Kardashian label, that was so hurtful to me and to my career," Bailon told the magazine. "I probably realized that too late — not that it would've affected my decisions in terms of who I dated, but it would've affected my decision to appear on the show.
Not so, said Kim and Khloé, who shot back at Bailon's flurry of stings via their Twitter accounts.
"Funny how she says being with a Kardashian hurt her career yet the only reason she has this article is bc she is talking about a Kardashian," Kim wrote late Tuesday. "So sad when people try to kick my brother when he is down #FamilyForever."
Khloé, who has been passionate in her care and concern for her brother, wrote she erroneously thought she and Bailon "were cool," warning his ex, "Don't kick my brother while he's down."