Rob Kardashian's Ex Adrienne Bailon Removes Last Trace Of Relationship Via Tattoo Removal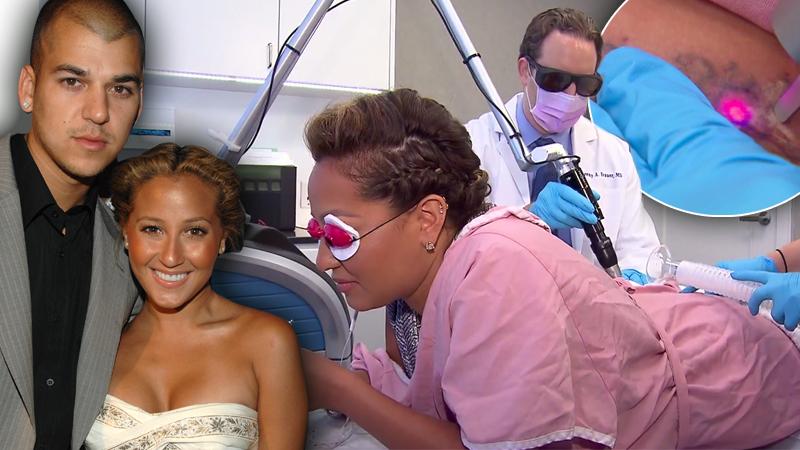 The hits keep coming for Rob Kardashian.
As the prodigal son of Kris Jenner continues to struggle with his weight, family relationships, and purportedly other self-destructive habits, the paunchy 27-year-old now has to suffer the indignity of his ex-girlfriend Adrienne Bailon publicly gushing over having a tattoo, bearing his name, taken off.
The former Cheetah Girl, who dated Kardashian from 2007 to 2009, brought Extra into the New York office of Dr. Jeremy Brauer, where she opened up on camera about her decision to have the ink erased.
Article continues below advertisement
"I'm excited, anxious, excited more than anything. I think I've waited a long time, long enough, to have this officially gone," The Real co-host, 30, told the show. "I thinking living the last six years with somebody's name on your body is a little weird and that's more painful, like, you know, to have to explain it to my kids."
She said her current beau, Lenny S of Roc Nation, "wants it gone, but not in a selfish way.
"He wants it to be done right, and it won't be something that will damage my skin and I'll be scarred for life."
She said she invested her faith into Brauer's new removal device, the PicoSure Laser.
"What I love about the PicoSure Laser is that it can work on people who already attempted to remove their tattoos and it hasn't worked before," Bailon said. "I'm excited to see how this works. I know it won't be completely gone in one session, but that there will be a drastic change."
Watch the video on RadarOnline.com:
youtube=https://www.youtube.com/watch?v=e9M4woR4bjE&w=560&h=315
Afterwards, Bailon lauded the procedure as "painless" and pleasant.
"I'm not going lie to you: I was so nervous. I had really painful experiences before doing laser tattoo removal before, like smelling my flesh burning."