Exclusive
Rob Kardashian Believes His Own Family Leaked Sizzurp Photos: Source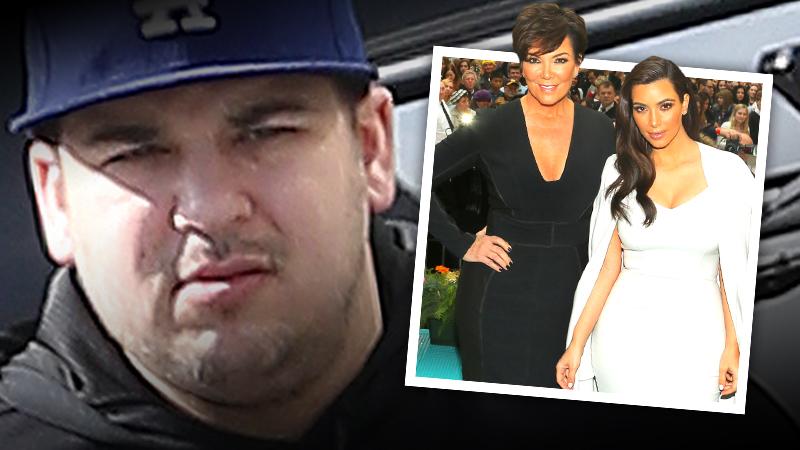 Last week pictures of Rob Kardashian allegedly using Justin Bieber's drug of choice, Sizzurp, a combination of codeine cough syrup and soda, leaked, and the sock mogul believes his family was responsible for the photos being made public, RadarOnline.com is exclusively reporting.
"Rob absolutely believes that his family, specifically, sister, Kim, have leaked information about his alleged drug use to the media....She was so angry at Rob for abruptly leaving her wedding festivities, and he thinks she did this as revenge. The two haven't been close for a very long time, and are virtual strangers to each other," a source told Radar.
Article continues below advertisement
There is concern for the youngest Kardashian because he "continues to isolate himself from the family. He had been working out on a semi-regular basis, but blew off numerous sessions with his trainer last week. He just goes into modes of radio silence and doesn't return anyone's phone calls," the insider added.
His family is so worried about Rob that momager, Kris Jenner, has contacted rehab facilities for Rob.
While the notion of a rehab stint has been floated to the sock designer, he has been resistant to the idea, according to online reports.
Rob's relationship with his sisters has been heavily strained since he prematurely left Kim's wedding last month, leaving Kim very unhappy with him. Khloé has made multiple unrequited attempts to reconnect.
"He feels completely estranged from his sisters and family," a source told us. "He really isn't in a good place."