Moving On From Disney! Zendaya Will Play R&B Princess Aaliyah In New Lifetime Biopic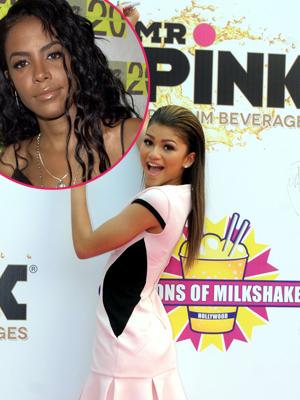 Lifetime is ramping up its biopic schedule as the network has announced its newest addition – Aaliyah.
The announcement comes on the heels of Lifetime's upcoming Whitney Houston tribute movie, which is slated to premiere in 2015.
The princess of R&B will be played by Disney star Zendaya Coleman, who is best known for her work on Shake It Up! Zendaya also is a singer, and the first single off of her self-titled debut album in 2013 went on to sell more than 1 million copies.
Article continues below advertisement
Tentatively titled Aaliyah: Princess of R&B, the movie will be based off of Christopher Farley's best-selling biography Aaliyah: More Than a Woman. The made-for-TV-movie will follow Aaliyah's journey from her debut on Star Search to her rise to fame to her untimely passing in 2001 when she was only 22 years old.
Aaliyah: Princess of R&B will shoot this summer and will premiere on Lifetime in the fall.