Exclusive
The Show Must Go On! Tori Spelling Insisted Reality Show Go To Air Despite Concern From Lifetime It Would Destroy Her Marriage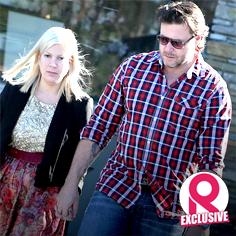 Marriages may be temporary, but reality TV fame is forever – at least, according to Tori Spelling. As Spelling's marriage to Dean McDermott crumbles, RadarOnline.com has learned, Lifetime network offered to postpone the premier of her reality show, True Tori, so they could work through their issues in private. But Tori insisted the show must go on, insiders reveal, no matter the cost to her marriage!
Article continues below advertisement
Spelling, 40, and McDermott, 47, are currently filming the six-episode docu-series, which will focus on the couple's battle to fight through infidelity and their financial woes.
As it became clear that the couple had some serious issues, network execs decided they "didn't want to be adding increased pressure to Tori and Dean by filming their attempt to save their marriage and air it so quickly," an insider reveals. "However, Tori was absolutely adamant that the reality show aired as soon as possible."
"Dean didn't have any voice or any power in the decision making," the source says. "Tori said her fans want to know what is going on with her personal life, and that was the reason given. It's unbelievable to use fans as the reason to air personal details about a marriage on television!"
Indeed, it seems no detail will be spared as their troubled marriage is exposed, warts and all. In a cringe worthy preview clip of True Tori released earlier this week, McDermott seems to excuse away the infidelity by claiming their sex life "wasn't fantastic," and that he has an "insatiable" appetite for the opposite sex.
Article continues below advertisement
The mind-blowing clip features a distraught Spelling and flabbergasted McDermott at a session with their marriage therapist, in which they explore why he cheated on her and if their marriage can be salvaged.
"We have four kids, so in the sex department there were ebbs and flows. Is that safe to say?" McDermott says looking at his wife.
"We had a great relationship, and we had a great sex life," Spelling battles back.
"We had sex once every two weeks," he says. "It wasn't fantastic."
Now, it's not just Spelling's bosses who think that airing such personal moments might take a toll on her marriage.
The source adds, "Tori's friends think it was a huge mistake to do the show. It's just too much! Tori and Dean need time to deal with what is truly going on in their relationship. How can that be done with reality cameras present?"
Article continues below advertisement
"It seems that Tori is setting this up for absolute failure," the source says. "She always has trouble dealing with confrontation, so maybe this is Tori's way of telling Dean she plans on ending the marriage on television."
What's more, says the source, "Tori wants to lock up another reality show after True Tori ends. She is counting on the Lifetime publicize the show and will hopefully result in a ratings bonanza which will lead to other great projects."
Do you think Spelling made the right decision? Let us know in the comments!