Exclusive
Tori Spelling's Love Rat Husband Dean McDermott Furious With Lifetime For Omitting His Name From Title Of Upcoming Docu-Drama 'True Tori'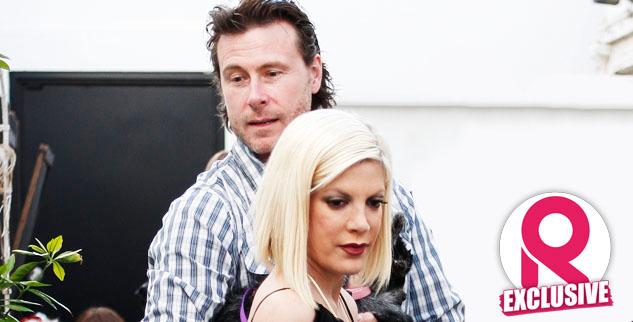 Tori Spelling's love rat husband Dean McDermott is furious with Lifetime Television and his wife for not including his name in the upcoming reality television show, True Tori, which will document the fallout of the Canadian native's revelation that he cheated on Aaron Spelling's daughter, RadarOnline.com is exclusively reporting.
"Dean is furious his name isn't being used in the show title — he is blaming Lifetime and Tori. He is featured throughout the show, and Dean allowed cameras access to document his stint in rehab," a source told RadarOnline.com. "He feels betrayed, but doesn't dare voice his anger to Tori because the marriage is obviously on very thin ice.
Article continues below advertisement
The source noted that the celebrity household remains in the midst of "a very tense time" in the wake of McDermott's admitted infidelity.
"Dean has been walking on eggshells around her for months, and he is getting sick of it," the source said. "The show is going to make him look like the bad guy. Yes, Dean cheated, but Tori certainly isn't a saint, and she needs to stop playing the victim role."
In a teaser for the show obtained by RadarOnline.com, the show tackles reports of McDermott's infidelity head-on.
"That's my worst nightmare — I cheated on my wife," McDermott, 47, said in the clip.
"I'm really mad," Spelling snapped back.
"I was out of control," he continued. "Sex was an escape, just like drugs and alcohol."
And as RadarOnline.com exclusively reported last December, McDermott demands sex 24/7 and Spelling admittedly just can't keep up.
"I can never give him enough sex," she said through tears in the teaser. "He's never going to be happy with just me."
Spelling's journey on the six-episode series will document the rocky road she navigates with McDermott following a marriage crisis when he was accused of infidelity and then his subsequent treatment in a rehab center.
However, another source groused, "Dean should be thankful his name ISN'T in included in the reality show title.
"It's going to be a total train wreck," the source said. "It's bad enough Dean is featured in it, but he needs to let it go. Who would want their name associated with that? It's tawdry, and Tori is going to come off as pathetic for doing a reality show in the midst of their attempt to save their marriage."