Exclusive
Chilling: Husband Of Whitney Houston's Daughter Bobbi Kristina Makes Online Threats Online Against Family Member, Brandishes Assassin Rifle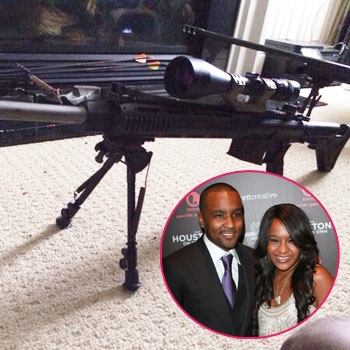 The late Whitney Houston's daughter Bobbi Kristina seemed to have turned a page on her troubled life when she married Nick Gordon earlier this year.
Although some raised eyebrows about Bobbi, 21, marrying the guy she grew up with as a kind of adopted brother, she insisted: "I'm finally happy."
But now, an explosive family feud has developed and RadarOnline.con has learned Gordon is making threats online against Whitney's nephew (and Bobbi's cousin) Gary Michael Houston!
Article continues below advertisement
It all started last December when Whitney's rapper nephew, Gary, reportedly upset at Gordon for talking trash about the family, beat him up at a Houston family party.
Gordon brought up the incident on Twitter this month, and now, his tweets have become more explosive, as he appears to be taunting Gary and his mother, Pat Houston, and posting alarming pictures of guns!
On March 16, Gordon tweeted, in an apparent reference to Nightmare on Elm Street's killer Freddy Krueger, "Pat b***h Gary M I'm Freddy to y'all n****az. F*** you suck my d***."
Earlier that same day, Gordon posted a picture of a rifle with a scope on Twitter, with the caption, "That's that AR-10 custom. Lol y'all p***y a** don't even now what that is."
In other March 16 Twitter postings, Gordon featured a picture of a case with three handguns, commenting, "B***h a** n****s."
He wrote, "I got guns bigger then you," in a related Tweet.
Although it wasn't clear Gordon was directly threatening Gary in the posts, it has to be uncomfortable for Bobbi Kristina, who announced her marriage to Gordon in a secret ceremony in January!