Exclusive
'Today' Show Turnaround! Matt Lauer Out Of The Dog House After Scoring Pippa Middleton Interview — Is A Sit-Down With Kate Next?!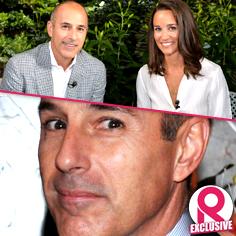 The golden boy of morning TV is back! Just one year ago, TODAY show anchor Matt Lauer was dragged through the mud for his perceived involvement in former co-host Ann Curry's messy firing. But now, weeks after renewing his contract with NBC, RadarOnline.com has learned that Lauer is back on top after landing the first television interview with Kate Middleton's sister, Pippa — after she specifically requested he do it!
Article continues below advertisement
"This is a huge get for NBC https://radaronline.com/photos/today-gma-the-biggest-scandals-of-the-morning-show-wars/, the TODAY show, and Matt," an insider told RadarOnline.com. "This had been several years in the making!"
PHOTOS: Faked Scenes, Lies And Payoffs! What's Real And What's Fake On TV's Hottest Reality Shows
"All of the other networks had been after Pippa," the source said. "There were informal talks between the news division of NBC, and Pippa's people. She ultimately chose to go with NBC because she was very impressed with how professional they were, and didn't suck up to her as another one of their competitor's did. In other words, they treated her like a person, who just happened to be the sister of the future Queen of England."
"Pippa could have had anyone at NBC do the interview, and she made it clear it had to be Matt," the insider explained. "They clicked, and hit it off, and she admires Matt's work ethic and commitment to his family. After all, he did fly 3,000 miles to do the interview with her, and then hopped back on a plane to go to Detroit to do an interview with General Motors CEO Mary Barra, which will air on Friday morning."
Article continues below advertisement
"These are two huge interviews that Matt secured!" the source pointed out. "Everyone is impressed."
As RadarOnline.com previously reported, that wasn't always the case. Lauer's image took a beating following the Curry fiasco, but sources said he had been doing his best to reach out to colleagues and keep morale high on the set of the morning news juggernaut despite the negative press.
Indeed, even though Good Morning America still maintains first place in the morning ratings race, TODAY is beginning to chip away at that lead. Season to date from September 2013, TODAY has been number one in the key 18-49 year-old demographic, and has had eight straight months of growth.
Since former executive producer Jim Bell left the post last year, and was replaced with Don Nash, "better decisions are being made about the stories that are being covered," the insider explained. "The cast and crew has truly moved on from the Ann Curry drama. Everyone is much happier on the set, and it really is a team environment. Matt wouldn't have been given a new contract if the bosses at NBC didn't believe in him!"
Article continues below advertisement
Just last week it was announced that Lauer had signed a new deal with NBC that will keep him at the network for many years to come.
"I consider this the best job in broadcasting," Lauer said, spilling out praise for his colleagues, in spite of a stream of reports the past few years detailing the behind-the-scenes turmoil swirling around the calculating, well-compensated journalist.
"I love people I work with every day, and I have such respect and gratitude for the people I work for," he said. "I couldn't be happier to be staying."
Deborah Turness, NBC News President, told the New York Times that the network "couldn't be more thrilled with Matt's decision" to remain the face of their mornings.
"As I've said many times before, he's the best in the business, and there is nobody I would rather have in the Today anchor chair than Matt," she said.
Now, Lauer's next dream interview should come as no surprise https://radaronline.com/photos/they-said-it-the-25-most-explosive-and-bizarre-celebrity-interviews-ever/, the Duchess of Cornwall, Kate Middleton. "Matt will absolutely continue to work with NBC's booking department to get Kate to sit down for her first American television interview," the insider revealed. "Kate's husband, Prince William, and his younger brother, Prince Harry have already been interviewed by Matt. He hopes Kate will allow him to have that privilege very soon!"
Matt's interview with Pippa Middleton will air on the TODAY Show on Monday and Tuesday of next week.