Exclusive
Here Today, Gone Tomorrow: NBC Star Ann Curry's Salary To Be Cut In Half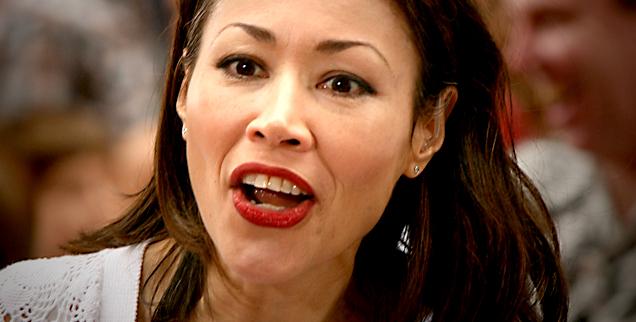 Ann Curry, the dumped co-host of TODAY, will be forced to take a MASSIVE pay cut if she remains at NBC News once her contract is up renewal next year, RadarOnline.com has learned.
The veteran 57-year-old journalist — who carries the title National and International Correspondent/Anchor for NBC News and the Anchor at Large for TODAY — is said to be mulling leaving the Peacock for potential opportunities at ABC News or CNN, the direct result of the impending salary slash.
Article continues below advertisement
"NBC has indicated they would be willing to give Ann a new contract, at less than half the amount she is making," one network insider said, noting she currently earns $12 million.
Another source said Curry's one-time boss, Jeff Zucker, who is now the CNN Worldwide president, has expressed some interest in recruiting the multiple Emmy Award winner.
"If Jeff is interested, one thing is for certain: There is no possible way that Ann will be commanding $12 million or more in her next position," the source said.
"It's also unlikely she would anchor a news program solo. She does very well with interviews, but carrying an entire program just isn't Ann's strong suit."
As RadarOnline.com previously reported, when Curry filled in for newsman Brian Williams on NBC Nightly News in May this year, there was a significant ratings decline.
As a result, the network made the decision to not allow Curry to fill in for Williams when he went out on medical leave in August recovering from knee replacement surgery.
Article continues below advertisement
"Viewers have made it clear, Ann just wasn't cutting it. She is a true professional and her true strength is doing reporting from the field," a source said.
The popular journalist has a window to leave her contract in 2014.
What's more, an insider said NBC News can't afford to bungle the situation with Curry a second time, after its botched handling of the co-anchor's exit from TODAY in 2012.
Instead of a celebrated send-off with a highlight reel of Curry's 15 years on the one-time ratings juggernaut, she was given just five minutes at the close of the show, as opposed to Meredith Vieira's star-studded goodbye.
Said a source: "Ann will have to realize that she will never earn $12 million a year again… that was just a different era when those contracts were issued. It was before the recession and news outlets have subsequently suffered huge cutbacks in newsroom budgets.
"She could probably land a $2-3 million contract as a field correspondent and hosting primetime specials. There is a need for that at ABC, especially with Barbara Walters retiring."