Exclusive
Ann Curry Won't Be Filling In For Brian Williams When He Goes On Medical Leave Because Of 'Significant Ratings Decline'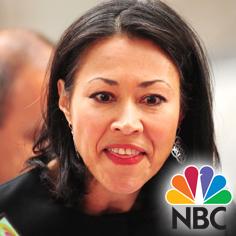 When Brian Williams begins his medical leave from NBC Nightly News to have knee replacement surgery, Ann Curry won't be filling in for the anchor because the ratings tanked when she stepped in for him in May, RadarOnline.com is exclusively reporting.
The 54-year-old anchor announced that he would be taking a medical leave in the next week for the surgery, stemming from a college football injury.
Weekend TODAY anchor, Lester Holt will be filling in for Williams.
Article continues below advertisement
Ann Curry, "absolutely won't be anchoring NBC Nightly News during Brian's absence, because the last time she did, the ratings tanked. Over a period of two nights in May when Ann was broadcasting NBC Nightly News, there was a significant ratings decline," a show insider told Radar.
"Viewers have made it clear, Ann just wasn't cutting it. She is a true professional, and her true strength is doing reporting from the field."
Williams had pushed network bosses to let Curry fill in for him when he went on vacation in May.
It was the first time Curry sat at the anchor desk in almost a year, since being ousted from the TODAY show, even though she has reported for the Peacock network.
"Brian and Ann worked together on Rock Center for the past year, and he is a big supporter of hers," a source previously told Radar.
Recently, Curry has been reporting from North Korea and Iran. Williams could be out for up to three months, but sources tell us, "it likely won't be longer than a month."