Exclusive
Who's Sorry Now? NBC Refused TODAY Publicist's Plea To Apologize For Bungling Ann Curry Being Dumped From The Morning Show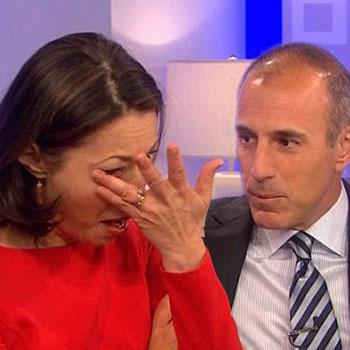 In the days after Ann Curry's teary good-bye from TODAY, the publicist for the morning news program urged bosses to issue an apology for bungling the anchor's exit, but was shot down by the honchos, RadarOnline.com is exclusively reporting.
Brian Stelter, author of Top Of The Morning: Insider the Cutthroat World Of Morning TV tells RadarOnline.com exclusively, "Megan Kopf, publicist for TODAY, went to her bosses, and said, 'look we have to issue an apology for the way we handled Ann Curry's farewell.
Article continues below advertisement
"Megan didn't want the apology to be read on the air, but just issue a statement. It was shot down immediately, and NBC has suffered from that ever since. The lack of explanation, and refusal compounded the problem. In the first two to three days after Ann's last show, the network could have lessened the damage. By not commenting on it, they really created this vacuum of gossip about it because most of those stories turned out to be true!"
Curry's last day on the air has gone down in history for the cringe worthy manner the network handled her sudden departure. "Lauer called in, too, and asked how Curry's sign-off would be choreographed. No one really knew the answer. A source remembers that Lauer referred to the anticipated moment as 'taking my cyanide pill.'"
Instead of a celebrated send-off with a highlight reel of Curry's 15 years on TODAY, she was given just five minutes at the close of the show, as opposed to Meredith Vieira's star-studded goodbye that included a dance party at the end of her last day.
Article continues below advertisement
"NBC executives later claimed that a proper send-off was unwarranted because Curry wasn't completely leaving the show, she was simply leaving the co-host chair. She'd still be the anchor at large. But that excuse was laughable. Meredith. after all, stuck around NBC as a special correspondent and a contributor to TODAY – yet her jubilant farewell took up the better part of two hours. To Curry, the poor treatment was a message from her irresponsible bosses: Get the f*ck out.," Selter writes.
According to Stelter's shocking expose about the morning news show wars, Matt Lauer was worried about the backlash he was going to get when Curry was formally fired.
Lauer never believed that Curry was the best fit to sit alongside him, after Meredith left the show when her contract expired. Lauer — TODAY's then golden boy — wanted Curry replaced as early as April 2012, and according to the book, "But Lauer suspected that her hasty disappearance would hurt him further. He was afraid of being blamed," a colleague told Selter.
Article continues below advertisement
The New York Times reporter & author thinks "things might have gone much differently if the decision hadn't been made to rush Ann off the air so quickly. Maybe if she had been allowed to remain on the air until the end of the year, and signed off in December, when everyone is on vacation and busy with hectic holiday schedules, we still wouldn't be talking about this."
Since her demotion, GMA has continued to command a lead over its NBC rival, and Lauer's image has taken a shellacking as a result.
Top of The Morning: Inside The Cutthroat World of Morning TV goes on sale Tuesday and retails for $18.00 on Amazon.