Matt Lauer Jokes About Ann Curry And TODAY Show Ratings Plunge, Wants Controversy To Go Away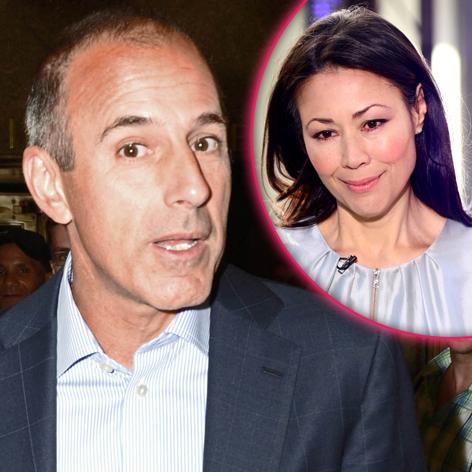 On the same day reports surfaced his tenure at the TODAY show was coming to an end, Matt Lauer Thursday said he's working hard to drive NBC's morning vehicle back to its' past ratings glory while attending the Upfronts, an event in which television networks show their wares to the advertising community.
"I would like to tackle a teeny white elephant in the room -- we hate being the news," Lauer, 55, said at the New York Public Library. "From the bottom of my heart, I promise to spend all of my time and energy over the next several months trying to keep co-anchor Savannah Guthrie out of the headlines," referring to the firestorm of media speculation aimed a him since Ann Curry's controversial departure last summer.
Article continues below advertisement
Guthrie joked with Lauer, telling him, "But you said all press is good press," to which Lauer replied, "Yeah, that didn't work out."
The lead anchor clarified to the room of 400: "We want to go back to being the most-watched morning program -- and least talked-about -- morning program."
As we previously reported, TODAY, after a 16-year lead over Good Morning America, fell to number two behind ABC's AM vehicle last year, and has been beaten for 29 straight weeks since.
Guthrie, asked about the show by a reporter after the presentation, said that "everything's good.
"We're hanging in," she said. "It's better than the press would have you believe."
NBC Universal News Group Chairman Pat Fili-Krushel Thursday said that between TODAY, MSNBC's Morning Joe and CNBC's Squawk Box, the Peacock network is still firmly entrenched at the top of TV's morning totem pole.
"We own it and maybe that's why the press is so fascinated by us," Fili-Krushel said. "When you factor in the quality of our audience ... we're really in a league of our own."
During the week of February 25, GMA drew 5.8 million viewers to TODAY's 4.8, and beat them in the coveted 25–54 demo. Since the return of resilient Robin Roberts, GMA's ratings have hit a 19-year high.