Exclusive
Will This Fix An Ailing 'TODAY'? Matt Lauer Breaking Bread With Show Staffers In Bid To 'Rally The Troops'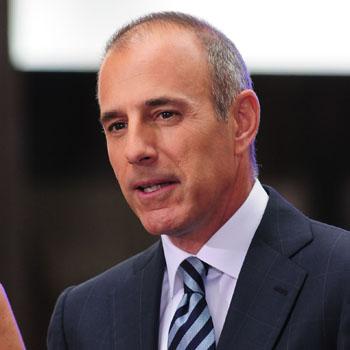 Embattled TODAY show anchor Matt Lauer is taking a top-down approach to the issues on the show he has helmed since 1996, taking show staffers out to lunch TWICE a week in an effort to boost morale and encourage a team atmosphere, RadarOnline.com has been told.
The "rallying of the troops" comes in the wake of Ann Curry's firing as the newsman's co-anchor, the demise of nine staffers and routine losses in the ratings war to ABC's Good Morning America.
Article continues below advertisement
During the past 12 months, 55-year-old Lauer "has gone out of his way to take staffers of the show out to lunch at least twice a week at his favorite midtown Manhattan hotel restaurant spot," a product source revealed.
"Matt wants to hear from producers and other staff about ideas for stories to cover, concerns they have -- or any other issues. No one from the network told Matt to do this. This is something he wanted to do.
"The lunch group might be the cast one day, producers the next. No one wants the show to return to the glory days more than Matt and he's fostering an open door approach and team atmosphere."
One of those people Laurer entertained over lunch recently was a young college student and intern, named Lucie Fink.
In the wake of the rendezvous, tongues started wagging and some even suggested their discussion over a lunchtime dinner was something more than two coworkers.
Article continues below advertisement
However, a source close to Lauer told RadarOnline.com: "TODAY show senior producer, Debbie Kosofsky, asked Matt to take Lucie to lunch because she has been friends with her parents for many years.
"Matt is extremely generous with his time and often takes college students to lunch at the request of parents. He even recently had lunch with a college football player who is thinking about going into the business.
"Matt offers advice and answers questions. It's the person he is. If anything unsavory had been going on between Matt and Lucie, he wouldn't have taken her to the most visible and high profile lunch spot in New York City -- where all of his peers eat!"
Said the source: "It's just getting beyond ridiculous the criticism Matt gets. Enough is enough."
Last week, as RadarOnline.com reported, Lauer's scheduled interview with Cleveland kidnapper Ariel Castro was abruptly cancelled despite it having been approved by the warden of the Cuyahoga County jail.
Lauer and his crew "packed up their equipment and left without incident," a source said.
"Matt felt really bad for the crew because they had been told the interview had been approved, but circumstances beyond their control prevented it from happening."