Exclusive
Booze-Fueled Fights, Icy Silences & Flirting With Other Women: Inside Ramona & Mario Singer's Disastrous Trip To Save Their Marriage​ — Eyewitnesses Tell All!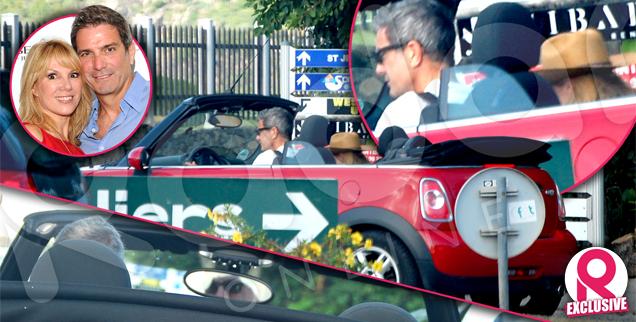 Article continues below advertisement
Pulling into a gas station in a bright red Mini Cooper, the couple seemed intent on ignoring each other.
Ramona "was reading a magazine," the eyewitness tells RadarOnline.com. "When Mario returned, he just got in the car. She sank back down in the seat and he didn't say anything to her at all. I never saw them interact or speak the whole time."
And while Mario's attention wasn't on his wife, his eyes were certainly wandering elsewhere. The eyewitness says, "I saw him smiling at another woman at the gas station while he was pumping gas and then checking her out and smiling in the rear view mirror as they drove away! However, he never turned toward Ramona, and she never even made any acknowledgements that he was even in the car with her. Just head down, reading her magazine."
Behind closed doors, RadarOnline.com has learned, things were even more tense between the pair, as Ramona's drinking put a damper on their trip.
As RadarOnline.com has reported, the couple were overheard fighting at their hotel pool on June 22, after the reality star's cheating husband complained that she had had too much to drink at dinner on Saturday night.
"Mario says Ramona becomes a different person when she drinks, and it's not a very nice person," an insider reveals. "He also revealed that all of the fights they have as a couple involve her use of alcohol, and he believes that he wouldn't have strayed if Ramona didn't have a problem."
Article continues below advertisement
Ramon has repeatedly denied having a drinking problem, insisting, "Do I over drink? No. I drink with responsibility."
Despite the drama, "Mario really wants to save the marriage," the source insists, "but things aren't looking good."
In fact, the source adds, "He has been flirting with other young ladies during the trip!"
The Real Housewives of New York couple's marriage imploded earlier this year when Mario's affair with personal trainer and socialite Kasey Dexter was exposed. Ramona subsequently filed for divorce, but has decided to stand by her man, sources told RadarOnline.com.
Do you think Mario and Ramona will make it work? Or should they go their separate ways? Let us know in the comments!