Exclusive
Phaedra Forced To Spill Her Secrets! Judge Orders 'RHOA' Star Parks To Sit For Deposition In Lawsuit Over Claims She Ran 'Criminal Enterprise'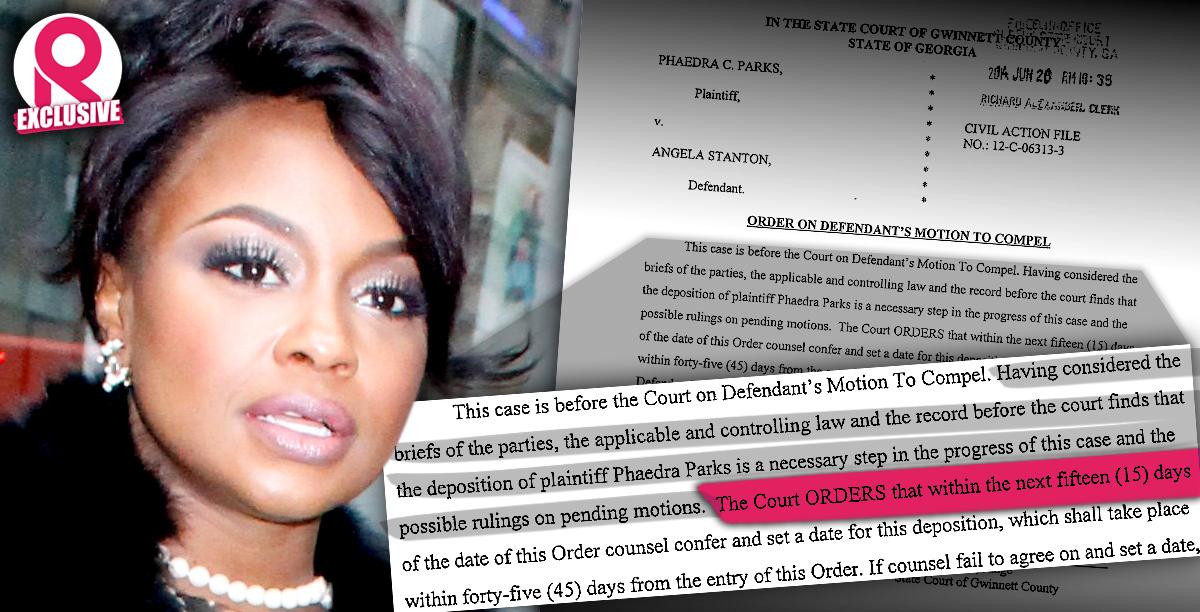 Article continues below advertisement
READ The Judge's Order To Parks — Sit For A Deposition Or Else!
Two years later, Stanton's attorneys are still trying to get Parks to sit for a deposition and divulge just what she knows. According to court records, they "began asking for available dates to take Parks' deposition" back on November 15, 2013. From that date forward, they tried to "work with Parks, by and through her counsel, on numerous occasions to schedule her deposition, but have met with nothing but excuses, refusals and empty promises…"
All told, the attorneys claimed Parks has shown a "refusal to participate in good faith in the discovery process."
Now, Radar has learned, a judge agreed that Parks' deposition is a "necessary step" in the case, issuing an order on June 19 for Parks to set a date for a deposition by July 4, and to sit for the deposition by August 3.
What could she discuss?
Stanton claimed in her book that "there was criminal activity involved in our relationship" as she and Parks became business associates in a scheme involving "fraudulent bank accounts, insurance checks, fake IDs, chop shops, stolen cars, fraudulent titles, fraudulent registration cards."
Parks has never been charged, questioned, or named in connection with such schemes by the authorities, and insists all of Stanton's claims are the libelous rantings of a bitter woman.
For the latest from the case, stay tuned to Radar!