Exclusive
The Truth About 'Crooked' 'Snake' Phaedra Parks' Past: Atlanta Housewife Sues Former Pal Over Claims She Oversaw Fraud Scheme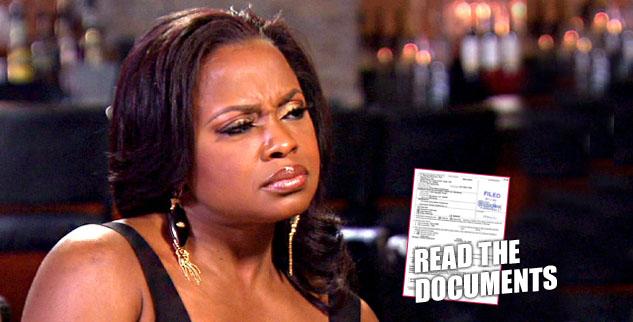 Ever since Apollo Nida was arrested for fraud and identity theft on January 24, it seems that Real Housewives of Atlanta fans have been asking themselves one question: How much did his wife, Phaedra Parks, know? RadarOnline.com has uncovered new information that may shed new light on such questions. According to newly unearthed court documents, Parks has been scrambling for years to silence a woman who's been making explosive claims about Park's own activities!
Article continues below advertisement
Parks sued Vibe magazine for publishing the allegations from the woman, Angela Stanton, in May 2012. That case was later dismissed, but four months later, Parks filed a lawsuit against Stanton herself, which is still ongoing in Georgia. Parks wants millions for statements Stanton made which she claims are false and defamatory. And while a judge has yet to rule on the matter, one thing is for sure: the claims are explosive.
Stanton's allegations were originally published in a book, Lies of a Real Housewife, but Parks reproduced them in a court complaint obtained by RadarOnline.com.
Among the claims that Parks disputes is the fact that she first met Stanton around 2001, and forged a close friendship that soon turned into a crooked business alliance.
According to court documents, Stanton has previously claimed Parks and Nida "were remaking fraudulent insurance checks … we were all involved in the federal racketeering scheme against the federal government."
Article continues below advertisement
"We would basically go to the car lot and write down the VIN numbers of the vehicle that we felt as if we wanted to keep or would make a good sale," she has alleged. "Once we recorded the numbers down off of the VIN, we would take them back to Phaedra and another associate, and once they had it they would make a false identification card and a registration card to match the vehicle."
"With the state issued ID, and proof of ownership, I would be able to visit any luxury car dealership, provide them with the necessary documents, as well as a fee … then just like that they would cut a computerized key to the vehicle," she previously explained. "…The Cars were then sent to a chop shop. The VIN numbers were filed down and replaced with new ones. Once replaced, I was provided with fraudulent certificates of vehicle titles …"
MORE ON:
Celebrity Justice
"Phaedra's schemes were clever and elaborate," Stanton once said, according to Parks' complaint. "She never ceased to astound each and every time she approached me with an assignment. … I often found myself excited about learning her tricks of the trade. Phaedra was this crooked attorney who knew how to commute crimes against the federal government."
Stanton was later arrested for the scheme, along with Parks' husband, Nida, and another business associate. Though she has claimed Parks promised to represent her in court, that offer never materialized.
Article continues below advertisement
"The day of my arraignment finally comes," Stanton alleged, according to Parks' complaint. "She doesn't show up. When the judge puts in a call for Phaedra, she tells the judge she won't be representing me due to a conflict of interest."
"Maybe she got scared, maybe she thought I would tell," Parks claims Stanton accused. "Maybe, you know, she felt that it was just getting too hot. I couldn't understand why she had just totally and completely abandoned me."
Nida and another business associate went to jail for several years over that scam, alongside Stanton, but Parks was apparently never suspected or charged and emerged scot-free.
And Stanton has said she's speaking out to make sure the world knows about the Parks she says she knew.
"Phaedra Parks was a snake I allowed to slither into my life," she has said, a claim Parks slams as false. "Once she got close enough to bite me, she did! As she slithered away, she left me to die a slow, and sure death. The heifer never even looked back. She walked away from our treasured turned corrupt friendship with not as much as a blemish to her name."
Parks insists that all of Stanton's allegations cited in the court records are libelous. Stay tuned to RadarOnline.com for the latest in the case.