Bad Checks, Fake Bank Accounts & Stolen Cars: Inside Claims That Phaedra Parks Oversaw 'Criminal Enterprise' -- So Scandalous, She Sued!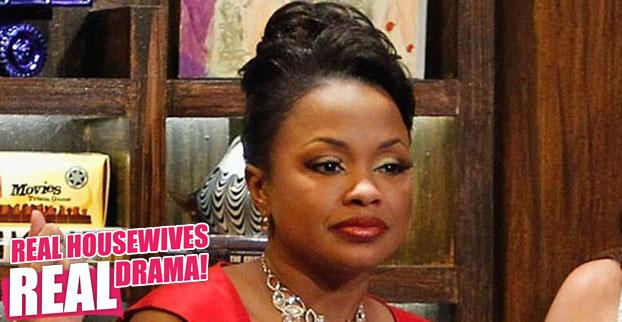 Apollo Nida isn't the only Real Housewives of Atlanta star facing allegations of fraud. His wife, Phaedra Parks, has been slammed by accusations from former friend Angela Stanton, who claimed that Parks was a "crooked snake" who oversaw a fake check and fraud ring several years ago in the book Lies of a Real Housewife. Parks sued Stanton for defamation after the book was published. But now, even more details about Parks' allegedly shady business behavior have emerged in depositions for the case obtained by RadarOnline.com, and they lay bare the supposed "criminal enterprise" in which Parks was allegedly involved.
Article continues below advertisement
Stanton gave a deposition in the case on February 4, 2014, expanding on the claims she issued in her allegedly libelous book.
Parks v Stanton - Defendants Motion for Summary Judgment by jamesradfordjr
//
According to Stanton, she met Parks in 1998 or 1999 "through a guy that I was dating at the time" and they quickly hit it off.
"Her and I became friends," Stanton said. "We were close. She became close to my family. I kind of looked up to her like a mentor.
A year or two after meeting, Stanton claimed in the deposition, "there was criminal activity involved in our relationship" as the two became business associates in a scheme involving "fraudulent bank accounts, insurance checks, fake IDs, chop shops, stolen cars, fraudulent titles, fraudulent registration cards."
"I recall a conversation in regards to things that Parks had going on," Stanton said, "things that she was doing, how I could make money. I was a single mother with a bunch of children. I looked at it as an opportunity and I jumped on the bandwagon."
Article continues below advertisement
The first scam, Stanton told attorneys, involved "Fake checks. The purchasing of electronics, laptop computers, Palm Pilots, jewelry, DVD players, desktop computers."
"Basically … there were conversations between her and I where there were orders were placed for things that Parks wanted or things that she needed for whatever," Stanton claimed. "She would make a list of the things that she needed. I would take those things … I would pick up the list in addition to fraudulent checks, and I'd ride around all day going to different stores and I'd write checks and I'd collect the items that she needed, and I'd bring them back to her."
Stanton claimed Parks told her "that basically, if you had a business check, that anybody could write on a business check. … the name didn't have to match. The checks would always go through."
Stanton said in the deposition that Parks allowed her to use around 50 of the checks for her own purchases, and also promised to act as her attorney if she was caught.
Stanton was eventually nabbed and served four months in prison for the check fraud, but told attorneys that she soon went back to work on a new scheme.
Article continues below advertisement
"It was something different this time," Stanton said. "I recall Phaedra telling me that it was time for me to be promoted, that she had something else for me to do. And this is when the fraudulent bank accounts came in. More fake IDs, fraudulent checks, this was another scheme."
She explained, "Around 2001 from what I recall, I had to give Phaedra a passport picture of myself. … I flew to Maryland, went to the DMV, got an ID card in the fake name of Tyra Evans. Once we got back home, Phaedra … gave me, I believe it was, $500, and told me to take the ID and go open up a bank account."
Faked Scenes, Lies & Payoffs – The Ultimate Guide To Reality TV Shows
"From there," she claimed, "I was told that the bank account had to sit for approximately 30 days. After the bank account sit, I got a telephone call from Parks' current husband Apollo. They had a check that was ready for me to deposit into the account. The check was made out to the alias, Tyra Evans, and it was in the amount of $23,000. I rolled with Apollo to the bank and we deposited the check into the bank. It cleared five days later. … Where the check came from, I don't know."
Article continues below advertisement
Soon after that, Stanton was jailed again in 2001 for several months -- during which time Nida was arrested as well.
But she told attorneys the scheming continued even further to a new scheme involving automobiles.
"The car scheme involved fake identification cards, fake registration cards, going to different luxury car dealerships with the ID and a registration card," Stanton said. "Basically, you would go to the car lot the day before and look at the cars. And whichever car that you see that was on the list of a car they wanted to get, you write down the VIN number."
Someone else involved in the scam would "make a registration card saying that I was the particular owner of that vehicle to match whatever ID was on whatever scam it was at that time," Stanton claimed.
"You go back to the dealership and tell them that you lost your key to your car, and for $65 they'll cut a key to the same vehicle," she said. "But the vehicle is actually still on the lot, so you would go to a different dealership. Come back when the car lot's closed, drive off with the car. They take the car to the chop shop, change the VIN numbers. Meet them the next day, they give me titles for the state of Ohio. Go to the DMV office … swap out those titles."
Article continues below advertisement
No Talent, No Problem: 25 Stars Who Are Famous For Doing Nothing At All
Before long, Stanton said, "we were being watched," and soon, she was arrested, along with associate Everett Tripodis in 2004, effectively ending her relationship with Parks, when Parks refused to represent her.
Parks has never been charged or named in connection with such schemes by the authorities, and insists all of Stanton's claims are the libelous rantings of a bitter woman. But several other individuals offered up statements with similar allegations.
Angela Stanton's sister-in-law Regina Matthews gave an affidavit, obtained by RadarOnline.com, in which she says she "facilitated numerous three-way phone calls" between herself, Stanton, and Parks when Parks was in prison beginning in March 2004.
"Angela would call me from prison and I would then call Phaedra and allow them to talk … almost daily …" Matthews said in the affidavit. "I distinctly remember Angela and Phaedra discussing 'their business' together during those phone calls. I also heard Phaedra inquire as to what Angela had told the police before, during, and after her arrest."
Article continues below advertisement
Stanton's ex-boyfriend, Justin Cody claimed in his own sworn statement that Parks and Stanton were "like in business together … doing like check fraud."
Asked by Stanton's attorney whether he had ever "heard Ms. Parks discussing these criminal enterprises," he responded, "Yeah the check fraud ... I don't really know about the title fraud."
"I remember one time … we was out in North Mall of Georgia and Angela was writing checks that she had got from Phaedra and she got arrested," he claimed. "And then I was in contact with Phaedra and she was in contact with Phaedra and Phaedra got her out of jail."
He also told Stanton's attorneys he had personally witnessed Parks giving Stanton a list of items to go buy with the fake checks during their relationship.
Asked if he was with Angela when she purchased the supplies for Parks, and then delivered them back to Phaedra, Cody answered in the affirmative.
Yet another of Stanton's exes, Leonard Holland, detailed the alleged auto scheme in his own sworn statement.
Article continues below advertisement
"They had some type of thing where they would steal cars," he said. "I think Everett would steal the cars and Angela would go sell them. And the paperwork was provided by Ms. Parks. You know, she knew the ins and outs on what to do. I think like the titles and the paperwork for the titles. Mrs. Parks had some kind of connection where she could get that information because you had to go get the keys. The way the scheme worked was, you would use I believe the title to go to the dealership to get the keys. And Ms. Parks was able to provide that information."
Asked if he witnessed such dealings, Holland said, "Oh yeah, clearly. I was there. I can't remember how many, but you know, more than two meetings I was there with all of us present where, you know, basically Phaedra was just mapping out how it was supposed to go. Everybody was participating in that, you know, what to do, what was needed, stuff like that. … I was actually there with Angie picking up some of the paperwork from Phaedra. I was there for that."