Exclusive
Spill It, Phaedra! Parks Refusing To Sit For Deposition, Claims Attorney For Woman Who Accused 'RHOA' Star Of Running Her Own Fraud Ring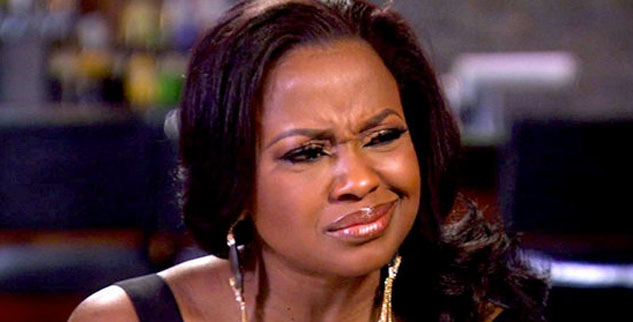 Phaedra Parks has slammed former friend Angela Stanton's claims that the RHOA star ran her own check scam long before her husband Apollo Nida was arrested for fraud, even going so far as to sue Stanton for defamation. But now that the lawsuit is underway, Parks has seemingly backed down.
According to court documents, she has repeatedly refused to sit for a deposition on just how she was involved with the check cashing scam that sent Stanton and several associates to prison.
Article continues below advertisement
Parks is suing Stanton over claims she made in her book, Lies of a Real Housewife, including the allegation that Parks oversaw a check fraud scam that also involved auto VIN fraud. Parks claims Stanton's allegations are libelous. But on February 24, attorneys for Stanton filed a motion requesting a judge to make a summary judgment in her favor, effectively ending the suit as a loss for Parks, because they claim the Real Housewives of Atlanta star has been less than forthcoming with evidence supporting her side of the case.
So far, attorneys for Stanton claim in the motion, obtained by RadarOnline.com, "the record contains no reasonable basis upon which Parks may prevail on her claims … Specifically, all the evidence in the record points firmly to the conclusion that the statements contained in Stanton's book, Lies of a Real Housewife, regarding Plaintiff Parks are true."
"Parks has produced no evidence in the record supporting her claim," the motion insists. Furthermore, "Parks has not appeared for the taking of her properly noticed deposition, has not submitted any affidavits, nor has she introduced any other shred of documentary evidence supporting her claims."
Article continues below advertisement
From November 15, 2013, on, the motion claims, Stanton's lawyers "began asking for available dates to take Parks' deposition. From that date forward," they tried to "work with Parks, by and through her counsel, on numerous occasions to schedule her deposition, but has met with nothing but excuses, refusals, and empty promises…"
All told, they claim Parks has shown a "refusal to participate in good faith in the discovery process," and are therefore asking a judge to throw out her case and find in favor of Stanton. They also request that Parks pay Stanton's attorneys' fees for what they call a "frivolous" lawsuit, in addition to any other sanctions "deemed appropriate by the court."