Exclusive
Marriage Of Convenience? Phaedra Parks Married Apollo Nida 'So He Couldn't Testify Against Her,' Former Friends Claim In Defamation Lawsuit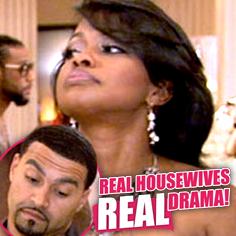 Article continues below advertisement
According to a deposition transcript obtained by Radar, Stanton's ex, Justin Cody claimed,"Before Phaedra used to talk to Apollo, she used to talk to this dude named DJ Nubbs … that was Phaedra's boo."
"And then Apollo came along and she wasn't even really … I don't know there relationship," he continued.
Faked Scenes, Lies & Payoffs – The Ultimate Guide To Reality TV Shows
Stanton has claimed that Nida and Parks were engaged in a check fraud scheme together, a claim which Parks hotly denies. Nida was arrested for racketeering in 2004 -- the same year Stanton was jailed for the scheme.
Cody said in his deposition, "I don't know their relationship, but all I know is right when the first fraud case came" and Nida was arrested along with Stanton and others of Parks' associates, "all of a sudden she just popped up and married him."
"She was still dealing with DJ Nubbs and she popped up and married Apollo …" he explained. "…Phaedra was trying to save her own a**."
Stanton had claimed in her book that Parks "even married our partner in crime Nida so he could not ever testify against her." Parks claims that allegation is libelous and is currently suing Stanton for defamation.
Parks has never been charged or named in connection with any of Nida's fraud arrests.