Exclusive
Justice Served? Tech Tycoon Found Guilty Of Assaulting Reality TV Star Will Keep His Seven-Figure Job Despite Conviction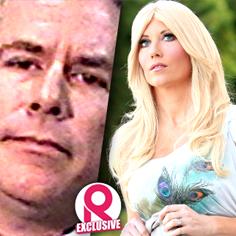 Patrick Henry was found guilty June 17 of assaulting reality TV star Ariane Bellamar, but RadarOnline.com has exclusively learned that it's business as usual for the tech CEO — because he's keeping his job!
A rep for Entropic, a platform semi-conductor company headed by Henry, told Radar that his recent personal and legal drama has no bearing on his ability to run the company and rake in a seven-figure salary, as far as the company's board is concerned.
Article continues below advertisement
PHOTOS: Top Celebrity Sex Scandals
"Entropic's Board of Directors is confident in Patrick Henry's ability to lead Entropic," company rep Chris Fallon told Radar.
"The Board closely monitored Mr. Henry's personal matter," she revealed. "Two of the charges were dismissed and the remaining charge was reduced from a misdemeanor to an infraction, the lowest charge permitted under Utah law."
According to Fallon, "The Board continues to believe Mr. Henry has the right experience, track record, domain expertise and skillset to continue in his current role as Entropic's President and Chief Executive Officer. Mr. Henry has assured the Board that he is 100% focused on running the business and keeping the Company focused on its strategic priorities. The Company does not intend to comment further at this time."
As Radar has reported, Henry was found guilty of assaulting Beverly Hills Nannies star Bellamar during a romantic trip to Park City, Utah, that ended in bloodshed earlier this year.
"After carefully considering all the evidence, Judge Kerr found Mr. Henry guilty of assaulting Ms. Bellamar," Summit County Attorney David R. Brickey told Radar. He was also found "not guilty of damage or interruption of a communication device, and not guilty of criminal mischief."
He was sentenced to pay a fine of $400, complete 40 hours of community service within 90 days, and complete a dual focus assessment for alcohol and anger management within 60 days, and complete any recommended treatment within 90 days.
According to online reports, Henry makes more than $1.5M per year.
Do you think it's fair he's keeping his job? Let us know in the comments!