Exclusive
Tech Tycoon Claims He Didn't 'Assault' Heavily 'Intoxicated' Ariane Bellamar — As Prosecutors Say He DESTROYED Reality Star's Cellphone In A Fit Of Rage While She Dialed 911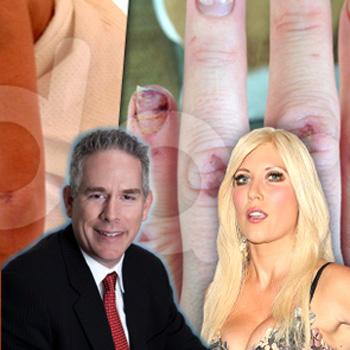 Article continues below advertisement
"The statements made by Ms. Bellamar are not consistent with the facts. Mr. Henry did not attack or assault her," a spokesperson for Henry told RadarOnline.com.
"Ms. Bellamar had been drinking heavily and was intoxicated before dinner; she continued to drink during and after dinner. We are confident that when the facts come out, they will validate that Mr. Henry neither attacked nor assaulted her."
As RadarOnline.com exclusively reported last month, Henry and Bellamar took a romantic getaway to Utah but things took a turn for the worse on Jan. 23 after Henry allegedly had too much to drink.
"I was woken up by Patrick dragging me by the hair and throwing me into the garage. He was screaming at me, accusing me of deliberately locking him out of the house," Bellamar exclusively told RadarOnline.com, explaining what happened when Henry arrived back at the cabin they were sharing.
MORE ON:
Celebrity Justice
Article continues below advertisement
"He then proceeded to throw me multiple times into the concrete walls of the garage," she said. "I am bloodied and bruised all up and down my left side of my body and… right side. It was terrifying."
RadarOnline.com obtained exclusive and shocking photos of Bellamar's alleged injuries from that night.
During the altercation Henry allegedly grabbed Bellamar's cell phone and threw it against a wall, totaling it — the same cell phone he'd previously been sexting with her on, sending her shirtless photos of himself, bragging "If we hit it off, maybe I'll manhandle you ;)"
A new press release from the Summit County Attorney's Office in Utah states that the reason behind Henry's charges relate to an allegation that "when Ms. Bellemar sic attempted to call 9-1-1, Mr. Henry took her cell phone and threw it on the ground, damaging the phone's screen."
However, it's also noted: "Mr. Henry is presumed innocent of all charges until such time as a jury determines he is guilty beyond a reasonable doubt."
Bellamar told RadarOnline.com of the incident, "I was in total shock, crying and shaking uncontrollably. He yelled at me to shut up again. When I couldn't stop, he turned the lights on, ripped the covers off, and demanded I leave. I was in so much pain and shock I couldn't respond. He then called the police saying that I wouldn't leave."
Henry, 51, was charged in Utah and a pretrial conference is scheduled for March 18.